Please join me for these appearances in 2017:
October 18, 2017
7:00 pm to 8:30 pm
National Novel Writing Month Kickoff
Cuyahoga County Public Library
South Euclid-Lyndhurst Branch
1876 S Green Rd
South Euclid, OH 44121
Come learn how to write a novel in a month from a panel of "Wrimos" (including moi) who have achieved the 50,000-word mark during National Novel Writing Month. NaNoWriMo is a national nonprofit organization that encourages participants to write a 50,000-word novel in November.  Learn more at NaNoWriMo.org.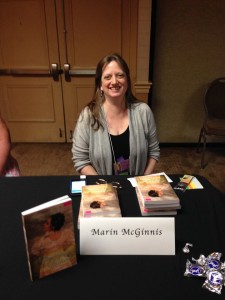 November 7 & 14, 2017
10 am to 12 pm
Writer in the Window
Appletree Books
12419 Cedar Rd
Cleveland Heights, OH 44106
 I'll be typing away in the window of Appletree Books during NaNoWriMo this year. Stop by to say hello and support a wonderful local, independent bookstore!  If you're interested in meeting other local romance authors, there will be a few members of NEORWA writing in the store on November 11, from 12 to 4 pm.
Check back for new appearances throughout the year.