Please join me for these upcoming appearances:
October 18, 2017
7:00 pm to 8:30 pm
National Novel Writing Month Kickoff
Cuyahoga County Public Library
South Euclid-Lyndhurst Branch
1876 S Green Rd
South Euclid, OH 44121
Come learn how to write a novel in a month from a panel of "Wrimos" (including moi) who have achieved the 50,000-word mark during National Novel Writing Month. NaNoWriMo is a national nonprofit organization that encourages participants to write a 50,000-word novel in November.  Learn more at NaNoWriMo.org.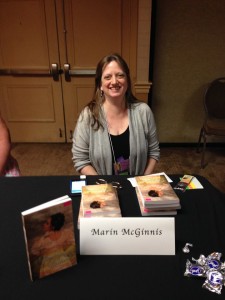 November 7 & 14, 2017
10 am to 12 pm
Writer in the Window
Appletree Books
12419 Cedar Rd
Cleveland Heights, OH 44106
 I'll be typing away in the window of Appletree Books during NaNoWriMo this year. Stop by to say hello and support a wonderful local, independent bookstore!  If you're interested in meeting other local romance authors, there will be a few members of NEORWA writing in the store on November 11, from 12 to 4 pm.
March 21, 2018
7:00pm – 8:30pm
How to Find and Work with Small Publishers
Cuyahoga County Public Library, South Euclid-Lyndhurst Branch
1876 S Green Rd
South Euclid, OH 44121
You've heard of Penguin Random House, HarperCollins, and the rest of the Big Five publishers, but there's a whole world of small, independent publishers who will publish your book traditionally. Like traditional publishers, they are selective and pay royalties to authors. How do you find reputable small publishers and what do they expect from their authors?
Get answers to these and other questions about the writing, querying and editing processes from yours truly and these talented authors:
Melinda Carver, Get Positive Live Positive: Clearing the Negativity from Your Life (Self-help, New Age)
Mary Frances Fisher, Paradox Forged in Blood (Historical Mystery)
Amanda Uhl, Mind Waves (Paranormal Romance)
Check back for new appearances throughout the year.