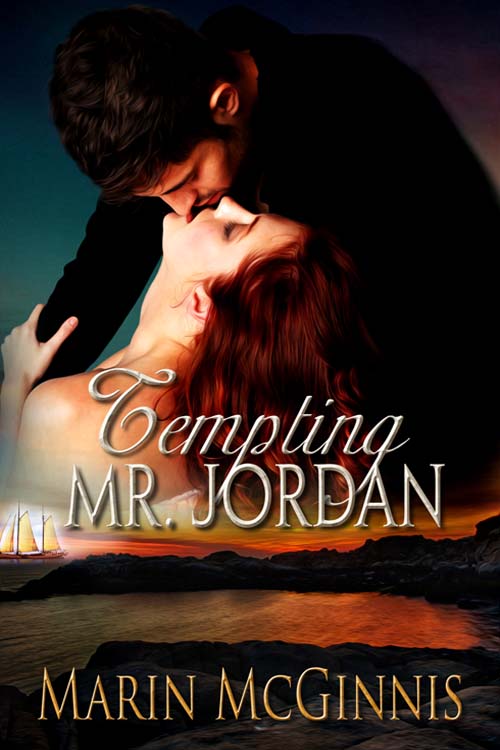 (Wild Rose Press, 2016)
After four unsuccessful London seasons, Lady Julia Tenwick despairs of ever making a love match. With spinsterhood looming on the horizon, she and a friend set sail for America on one last adventure. When her travels take her to northern Maine, Julia meets a reclusive but handsome artist, whose rudeness masks a broken heart Julia feels compelled to mend.
Still haunted by the betrayal and death of his pregnant wife two years before, Geoffrey Jordan is determined never to risk his heart again. Certainly not with the gorgeous and impetuous aristocrat who intrudes upon his small-town solitude, and is far too similar to his late wife to tempt him to take another chance on love.
But when Julia and Geoffrey find themselves united in a reckless plan to save Julia's friend from ruin, they discover that temptation is impossible to resist.
Available from Amazon, Barnes & Noble, iTunes, Kobo, and Bookstrand.
The snow began to fall faster, swirling around as she clambered over the large rocks at the water's edge. The sky was streaked with red, orange, blue, and gray, and she stopped, perched, just to watch.
"Get out of the way!"
She jumped at the strident tone, nearly toppling into the water. Regaining her balance, she turned carefully, and sighed.  Geoffrey Jordan sat on a neighboring rock, sketchbook in hand. His expression was darker than the sky had been when she started on this walk. Julia was unable to stop herself from stepping back in surprise. Apparently there were bears near the shore as well.
"You're blocking my view." The muscles of the man's face settled into a grimace which Julia found only marginally less frightening than his scowl.
"All right, I'm sorry! I didn't see you there." Julia took another step back and cried out in pain as her foot slipped into a crevice between the rocks.
Geoffrey swore and tossed his sketchbook onto the rocks. He strode over to her and held out a hand.
Given his expression, Julia considered whether it might be safer to remain where she was. Geoffrey stuck his hand out again, waving it impatiently.
Julia finally realized she was more annoyed than afraid. "How am I supposed to grab your hand when you wave it about like that?"
"Oh, for God's sake!" He reached down with both hands and grabbed her waist, pulling her to her feet. She ignored the tingling of her skin where he touched her and focused on her anger instead.
"I don't know why you're so angry at me. It's not my fault I fell. You startled me."
"You stepped into my line of sight. And now the sunrise is nearly gone, I've missed it, and it's entirely your fault."
Julia realized his hands still rested on her hips, and she pushed them away. "You sound like a petulant child."
He returned to his sketchbook and sat down again. He started scribbling, ignoring her. She ignored him as well and gingerly ran a hand over her throbbing ankle. Her stocking was torn, and a shallow cut showed through it. Deciding she should return home to clean the wound, thanks to this odious man, she slowly made her way across the rocks past him. She caught a glimpse of his sketch as she passed. Intrigued, she stopped and bent at the waist, looked over his shoulder.
"You're barely drawing anything at all. What does that say?"
He scowled again, but he answered, "Scarlet."
She pointed at the corner of the drawing. "And that?"
"Azure. I thought all proper English ladies could read."
"Your handwriting is terrible. What does that say?" She pointed again.
"Orange."
She peered closer. "It does not. It looks like 'crindle.'"
He laughed, and she turned her head to look at him. He was much less frightening when he laughed. Handsome. She blinked and unbent.
"'Crindle'? What on earth does that mean?"
Her cheeks warmed. "Well, I don't know, do I? It's your drawing."
"And it says 'orange.' What are you doing out here anyway?"
"I wanted to go for a walk."
"At the crack of dawn?"
"I didn't think I would see anyone."
"Why didn't you want to see anyone?"
She sighed. "Because conversation tires me, sometimes. This one in particular."