My next book takes place in a fictional town in Maine, near Bar Harbor. Set in 1871, it precedes the "gilded age" experienced in many American cities–my hometown among them–but by then the wanderings of America's wealthy elite were already being felt in Maine.  As I was doing research for the book, I made some discoveries.
In the 1850s, Frederic Edwin Church, a second generation member of the Hudson River School of painters, visited Mount Desert Island, on which rests Bar Harbor (officially known as "Eden" until 1918) and its fictional neighbor.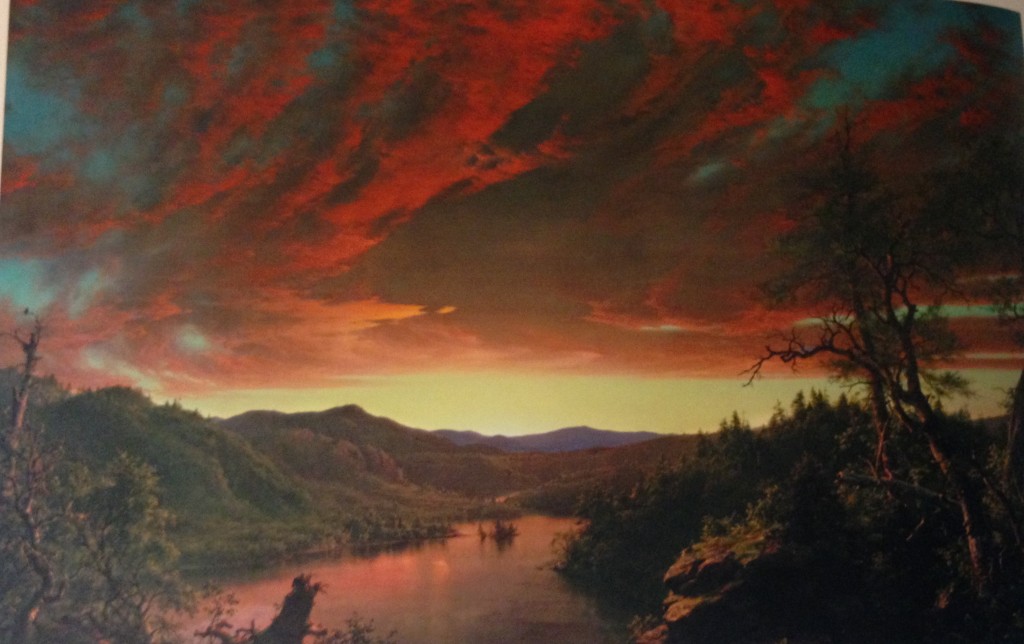 His paintings, as well as those of  his peers, captivated America's wealthy denizens of the south, and they began to visit Maine in significant numbers. In 1890, W.H. Sherman, in his Sherman's Bar Harbor Guide, Business Directory, and Reference Book, writes the following "bird's-eye" description of the area:
A beautiful, landlocked bay stretching away into the distance and losing itself in numerous coves and inlets, amid purple hills and green, wooded shores, its waters now washing the feet of weather-worn precipices and anon breaking softly on glistening sand and pebbles. Studded over the surface of this bay are bright emerald islands, rich in foliage, stately landmarks of the ages. As the summer sun shines brightly on this panorama of sea and mountain, one can imagine himself in the home of the lotus eaters, so enticingly does it seem to invite to repose.
On one side of this beautiful bay is an island, an island rich in all the wonders and beauties of nature. Majestic mountains rear their bold summits toward the sky, and sheltered valleys lie nestling at their base. Lovely lakes abound, reflecting in their pellucid depths an endless vista of mountain and forest. Brooks, with shady pools where the trout love to hide, flow gently through its vales or leap, foaming, from rock to rock in their headlong course to the sea. Mountain, forest and lake scenery meet the eye in every direction, while the rock-bound shores and lofty cliffs form a picturesque frontier to this island paradise.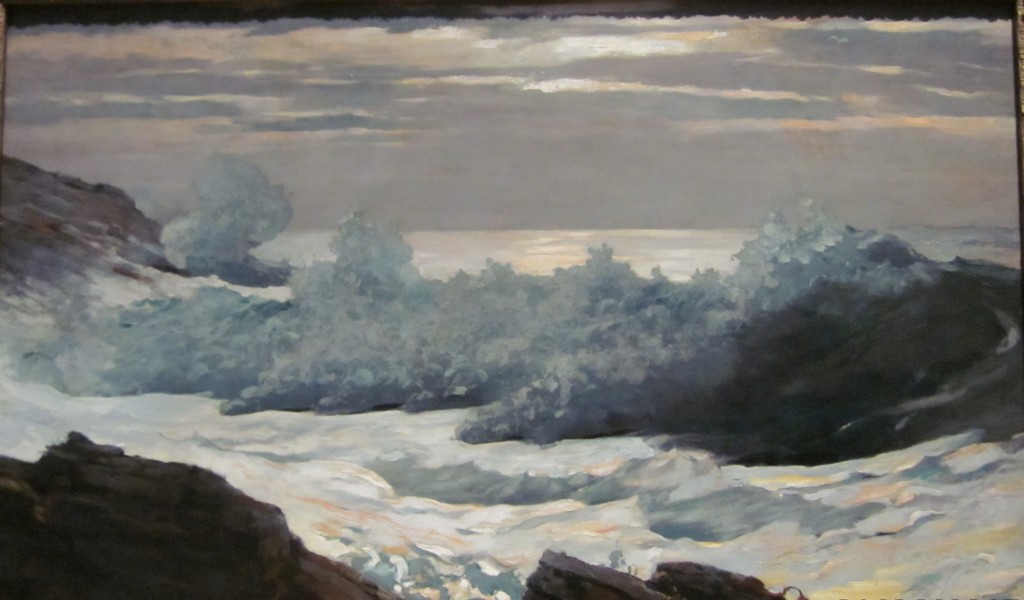 Travel by land was difficult–trains only went as far as Portland–so the best way to reach Mount Desert Island was by steamship from Boston, which had its own hardships.  Because the journey was arduous, visitors tended to stay for a month or more.
These "rusticators," as they were known by the locals, initially stayed in hotels–in 1855 a New York lawyer named Charles Tracy brought 27 people, including Frederic Church, to stay in a village tavern. He kept a diary about his experiences, which was published, including illustrations by Frederic Church, by the Mount Desert Island Historical Society in 1997. (There are used copies available on Amazon, ranging in price from $5 to $285. Seriously.)
After a few summers, however, the visitors grew weary of rusticating, and began to build "cottages," ornate structures with 20-30 or more rooms. The "Golden Age" of Bar Harbor and surrounding towns began in earnest around 1880. At its height, the season featured lavish parties nearly every day of the week. According to the Mount Desert Island Historical Society, "Some 'cottagers' actually hired teams of local workers who would move, largely by hand, fully grown oak, maple and elm trees to different locations on the lawn each year, much like one would rearrange furniture or change the composition of a flower garden!"
The locals did reap benefits from these eccentric summer visitors. They provided jobs year round, and John D. Rockefeller financed 57 miles of gravel roads and 17 hand-carved granite stone bridges on Mount Desert Island, and donated one-third of the land which became Acadia National Park, the first national park east of the Mississippi River. He convinced many of his friends to donate land as well. Another summer visitor, George Dorr, charted and created many of the trails in the park.
The Golden Age hit its decline with the creation of the federal income tax, as well as the Depression and World War II. But the death knell was struck in October 1947, when Mount Desert Island suffered a massive forest fire. The fire swept through "Millionaire's Row" on Frenchman's Bay, destroying 67 palatial summer estates and ultimately burning 17,188 acres, 10,000 of which were in Acadia National Park.
Sources:
*Cleveland Museum of Art
*http://www.barharborhistorical.org/bhhistory.html
*http://mountdesertisland.net/heritage.html
*http://en.wikipedia.org/wiki/Frederic_Edwin_Church
*W.H. Sherman, Sherman's Bar Harbor Guide, Business Directory, and Reference Book, 1890. Available on GoogleBooks.
*Photos of cottages from "Cottages of Mount Desert Island," http://research.mdihistory.org/MDIcottageshome.htm
*http://www.discover-acadia.com/acadia-national-park-history.html
*http://www.acadiamagic.com/carriage-roads.htm
*http://maineanencyclopedia.com/mount-desert-fire/