Today's guest is my good friend, Lily Vega. Lily writes *very* steamy paranormal & contemporary romance. Her latest, Devil in a Blue Dress, was released in May by Changeling Press. Welcome, Lily!
Tell us a bit about you. Where do you live, and how long have you been writing? I live in the Midwest. I've shuffled around several different states. I've been writing consistently for about 5 years.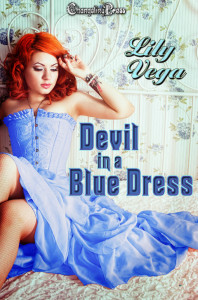 What inspired you to write Devil in A Blue Dress? (I adore the cover!) I enjoy creating characters with a dark side. When I pitched the Devil May Care series, I didn't know much more than the third installment would wrap up the series and either the hero or heroine would first appear in the second story. After book two, I had the heroine, heroes, and the theme – when you get what you want, things don't always turn out like you'd expect. While I wrote the book, Ray's struggle with addiction became key to the story.
What does your writing process look like? I write my short steamy books by the seat of my pants. At some point, I stop and determine which key events need to happen to complete the storyline and get to happy ever after. I note these and any other thoughts I want to incorporate into the story. I also keep a loose series bible to keep track of character attributes.
What do you do when you're not writing? Drink.  Actually, I sometimes drink while I write. I love trying new craft beers, beer cocktails, and Guinness mixes (e.g. Guinness and Strongbow).
I've been known to drink wine while I write–keeps the creative juices flowing! What are you working on now? The Devil May Care series was planned as a trilogy. While the story was wrapped up at the end of book three, one of the minor characters, a fallen angel, needs his happy ever after, so I am working on his story, Falling for Her.
How many books do you have under the proverbial bed? Will they ever see the light of day? Too many to count! The triage process can be gut wrenching, but I plan to resurrect as many as possible. Going All In (1Night Stand), which was published in May by Decadent Publishing, was one of those under the bed books and I was thrilled with the end result. I've begun CPR on several other stories.
I tend to work through story ideas when I'm driving or in the shower, both of which are, of course, places I can't write anything down. Do you have any strange writing habits? Post-It Notes. My workspace looks like an office supply store exploded. Cryptic notes like "Guy from set up = Guy #1" are scrawled on them. When the cats steal them, I usually find them under the couch or stuffed inside a shoe.
How do you come up with character names? First names just seem to come to me. Last names are harder. I've had to change names before too, Natalie was originally Anita, but the name was too similar to Arianna.
Name one thing about you that most people don't know. I am crazy addicted to Plants versus Zombies. The main reason I bought an iPad was to play the game.
If you had a superpower, what would it be? I am in awe of exceptionally productive authors. My dream would be to consistently crank out large quantities of publishable prose. Heck, I'd be happy just to win NaNoWriMo.
Ah, wouldn't that be nice? I won NaNoWriMo once–with a book that will probably never see the light of day–but never again. I do wish I could write faster! Other than "butt in chair," what piece of advice would you give to an aspiring author? Share your knowledge with your writer friends. Find a great craft book, tool, or submission call? Let them know. They'll reciprocate.
What book are you reading now? Open All Hours by Eden Royce. I'm a big fan of her Carnival Magic series. The heroine shifts into a black cat. How cool is that?
To find out more about Lily and her books, visit:
Website: http://lilyvega.com/
Facebook: Lily Vega
Twitter: @LV_Writer
Amazon Author Page: Lily Vega
Goodreads: LilyVegaWriter
Devil in a Blue Dress (Devil May Care #3) by Lily Vega
What's a lust demon to do?
All of Xanthe's heart's desires are coming true. She's a bridesmaid in her cousin's wedding and in charge of the bachelorette party. Her boyfriend, True, is extra limber and up for sex whenever and wherever she wants. Everything is just too perfect — on the surface, anyway.
She suspects her sexual appetites are taking their toll on True. And the wedding festivities just aren't as festive as she imagined. Enter Ray Perry, a bad boy with a dark past. He's every bit as dominant as True is submissive, but an evil imp with a penchant for porn has a contract out on him.
When she discovers a vile plot to sabotage the wedding, Xanthe fights to save the day and her sexy men — one of whom holds her heart and the other her soul.
Excerpt:
True's name suited his easygoing personality. Xanthe ran her gaze over his lithe body, starting with his long, shaggy, sun-highlighted blond hair to his sandals. Natalie referred to him as a crunchy-granola guy with a chocolate-candy heart. Xanthe couldn't tell if it was a compliment or an insult.
He looked up then, seeming to feel Xanthe's gaze, and his face lit up with a smile that made his light blue eyes sparkle. His warm touch ignited her libido. If she wasn't hell bent on winning a damned bingo prize, she'd drag him under the table for a quick romp.
Available on Amazon.