I am pleased to welcome fellow Wild Rose author Laura Strickland back to the blog, since her latest book, Forged by Love, releases today (I wish I was so prolific!). Thanks for stopping by, Laura!
Forged by Love
by Laura Strickland
Newly returned home to Lobster Cove from the War Between the States, blacksmith Douglas Grier can't forget the horrors he's witnessed or the beautiful young woman he helped break free from her shackles one dark night after her master's plantation burned. He wishes he had at least asked her name, even though she and her family disappeared into the darkness and Douglas has no expectation of seeing her again.
Josie Freeman can't remember the last time she felt safe. Even though she and her family are freed, they're being pursued by slave hunters hired by their former owner. When their ship is damaged on the way to Nova Scotia, Josie is thrown into contact with the one man she never expected…the very man she had wanted to see. But will her past catch up with her before Douglas can free her heart?
EXCERPT:
"Hello, folks. Sir, I don't suppose you remember me."
Josie stared at the man who spoke, afraid to believe her eyes. Tall and with bare shoulders that gleamed in the sun, he had a crop of wavy black hair and skin almost as dark as her own. Though he spoke to Daniel, his brown eyes sought hers and held them, his wonder evident to see.
Not remember him? From the instant he stepped on the wharf, Josie's attention had been snagged—and not just because he was a good-looking man. No, for the pull she'd felt from the first they sighted this place heightened almost unbearably, every one of her inner instincts sitting up and howling.
Not remember him? Had there been a moment since that night he hadn't been, somehow, with her?
Her lips parted, but she didn't speak. Daniel's deep voice sounded instead.
"Of course, of course we remember you, sir. How could we forget?"
"Good to see you again." The man focused on Daniel at last and extended a hand to him without hesitation. "But what sort of happenstance has brought you here where we might cross paths again?"
"A long story, sir, and one with a full measure of sorrow." Daniel shook the man's hand with the innate courtesy that always marked him.
The fellow's gaze stole back to Josie, and she promptly went breathless. "I'm very glad to see you safe. That night—well, I never did get your names."
"Daniel Freeman, sir. This here is my son Michael, his wife Eunice, and their child Hetty. And my own girl, Josie."
"Douglas Grier, and I'm glad to meet you properly."
Michael leaned forward to shake Douglas Grier's hand. "I'm happy, Mr. Grier, to have a chance to thank you. It was a fine thing you did for us that night."
Douglas Grier smiled, and his somber face transformed as if lit from within. Josie's heart fluttered like a wild bird before resuming a double-time beat.
Calm yourself, girl. He's done no more than look at you.
Grier turned to her. "Josie Freeman," he repeated as if he memorized it, and took Josie's hand.
She promptly went dizzy as sudden images pressed upon her, blotting out the present. His hands coming at her, so strong and yet gentle, out of the darkness that night. The way he'd touched her, with such care and respect, and the way he'd looked at her as if he could see right down to the bottom of her soul.
He smiled again and Josie's poor heart pounded in response. "What a marvel this is. I've wondered a hundred times what happened to you after that night."
Forged by Love can be found at these retailers:
Amazon
Amazon Canada
Amazon UK
The Wild Rose Press
Barnes and Noble
Good Reads
All Romance eBooks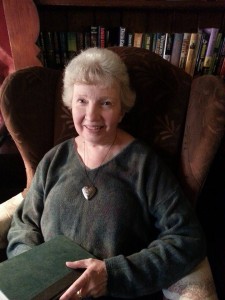 Born and raised in Western New York, Laura Strickland has pursued lifelong interests in lore, legend, magic and music, all reflected in her writing. Though her imagination frequently takes her to far off places, she is usually happiest at home not far from Lake Ontario with her husband and her "fur" child, a rescue dog. Author of Scottish romances Devil Black and His Wicked Highland Ways as well as The Guardians of Sherwood Trilogy (consisting of Daughter of Sherwood, Champion of Sherwood, and Lord of Sherwood), she has also published two Steampunk romances, Dead Handsome: a Buffalo Steampunk Adventure, and Off Kilter: a Buffalo Steampunk Adventure, as well as two Christmas novellas: The Tenth Suitor and Mrs. Claus and the Viking Ship. Her Lobster Cove Historical Romance, The White Gull, is the prequel to her new release, Forged By Love, a Lobster Cove novella. Her next release will be a contemporary Candy Hearts Romance called Ask Me.
You can read more about Laura and her books at www.laurastricklandbooks.com.