I am pleased to welcome fellow Wild Rose historical author, Beth Trissel, back to the blog today. Beth, you may recall, released Traitor's Curse in November, and today she'd like to tell you about the other books in the series. If you like 18th century American romance, you really should check out them out!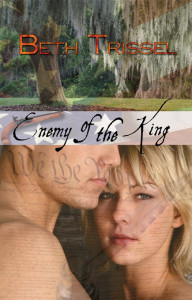 Enemy of the King (Book 1 Traitor's Legacy Series)
1780, South Carolina.
While Loyalist Meriwether Steele recovers from illness in the stately home of her beloved guardian, Jeremiah Jordan, she senses the haunting presence of his late wife. When she learns that Jeremiah is a Patriot spy and shoots Captain Vaughan, the British officer sent to arrest him, she is caught up on a wild ride into Carolina back country, pursued both by the impassioned captain and the vindictive ghost. Will she remain loyal to her king and Tory twin brother or risk a traitor's death fighting for Jeremiah? If Captain Vaughan snatches her away, he won't give her a choice.
1781. On opposite sides of the War of Independence, British Captain Jacob Vaughan and Claire Monroe find themselves thrust together by chance and expediency.
Captain Vaughan comes to a stately North Carolina manor to catch a spy. Instead, he finds himself in bedlam: the head of the household is an old man ravaged by madness, the one sane male of the family is the very man he is hunting, and the household is overseen by his beguiling sister Claire.
Torn between duty, love, and allegiances, yearning desperately for peace, will Captain Vaughan and Claire Monroe forge a peace of their own against the vagaries of war and the betrayal of false friends?
Halifax, North Carolina, 1783.
Captain Stuart Monroe returns home from the Revolutionary War to find Thornton Hall threatened by a peacetime foe: debt. He knows the location of a treasure amassed to pay for the capture of Benedict Arnold that would restore his manor to its former glory. The catch, it's hidden in the graveyard, and coveted by old enemies.
Hettie Fairfax inherited the Sight from her Cherokee ancestors, and her otherworldly visitors warn her, and Stuart, away from the buried treasure. Half-dead from fever, she delivers a message: the treasure is cursed. But will he believe a girl half out of her mind with illness? Even when a very real enemy attempts to poison her? Stuart soon wants to marry Hettie, but she fears her "odd ways" will blemish his reputation. The spirits have their own agenda, however, and the battle against darkness tests everything the couple holds dear, including their love for each other.
A bit about Beth: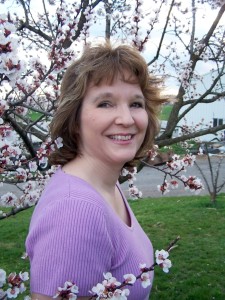 Married to her high school sweetheart, Beth Trissel lives on a farm in the Shenandoah Valley of Virginia surrounded by her children, grandbabies, and assorted animals. An avid gardener, her love of herbs and heirloom plants figures into her work. The rich history of Virginia, the Native Americans, and the people who journeyed here from far beyond her borders are at the heart of her inspiration. She's especially drawn to colonial America and the drama of the American Revolution. In addition to historical romance, Beth also writes time travel, paranormal romance, YA fantasy, and nonfiction.
For more on Beth visit her blog, One Writer's Way, connect with Beth on Facebook and Twitter, and visit her Amazon Author Page.