Today's hop guest is my friend Judy McDonough, a recent transplant to northeast Ohio from Texas. So far she seems to be taking our crazy winters in stride! Judy loves to talk, but I'm always happy to hear what she has to say, and I hope you will be too. 🙂  Comment below for a chance to win an ecopy of all three of Judy's books, and be sure to get to the end of the post, where you'll find a fun Cajun version of "The Night Before Christmas."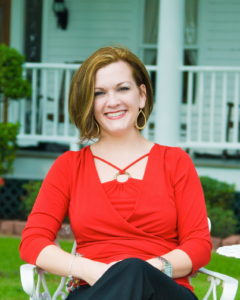 Hi there! I'm Judy McDonough and I'm the author of a southern paranormal romance series called The Bayou Secrets Saga: Deadline, Lifeline, and Flatline. It is a ghost mystery with romantic elements that takes place in the Louisiana bayou with visits to New Orleans. More on that in a bit. I've always been fascinated with the supernatural or paranormal phenomenons, mostly ghosts, and my series stems from an actual experience I had while living in a barracks which was a renovated WW2 Navy hospital. I am a U.S. Navy veteran, and I met my husband, Mike, when I was stationed in New Orleans. He was a civilian local who showed me that there was more to his city than the tourist traps around Bourbon Street, and introduced me to the magic, history, and overall essence of New Orleans. Little did I know that it would latch on to me and eventually become a passion of mine. I've always loved Parisian architecture, and New Orleans is full of the ornate French influences. While living there I fell in love with the Cajun accent and culture. It's not like anything you've ever experienced anywhere else. I promise you.
If I could move back to any place in the Big Easy I wanted and money wasn't an issue, you would find me on the balcony of a lovely historic home in the Garden District drinking my coffee and chicory while watching the Spanish moss draping from the oak trees sway in the warm breeze. I would have citrus and magnolia trees in my yard, a pool (especially after living in the cool North for a while), a wrought iron fence surrounding my property, and majestic white columns flanking my front door. Sweet tea in the fridge, crawfish étouffée or red beans and rice (if it's a Monday) on the stove, and soft jazz emanating through the open windows of my home. Sounds nice, doesn't it?
I'm new to NE Ohio. Actually, I've never lived above the Mason-Dixon line. I'm a southern girl, so all this beautiful white snow y'all have up here is a novelty for me. I love it. My husband got a new job with a great company up here, so we packed up and left Houston, Texas in March of 2015. Much to the dismay of my new friends and neighbors, after almost two years of living up here, I still love the snow. I play in it more than my boys (ages 7, 9, and 10) do. Well, more often, but not for quite as long. They're young so the cold doesn't bother them as much as it does me. After about thirty minutes I've had my fill and rush back to the fireplace to warm my numb piggies.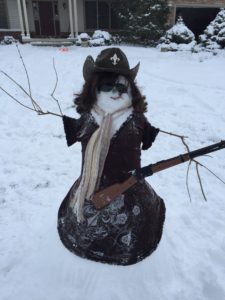 Last year I asked them to help me build a snowman, and all three of them said no because they wanted to stay inside and play video games. So, I built my snow man all by myself, only I gave her boobs, an hourglass figure, and put a wig and one of my stretchy dresses on her. I also put a toy rifle in her twiggy arms, a cherry Twizzlers for her red lips, and a cowgirl hat on her head. My eldest was mortified because our snow girl had cleavage, so I told him he should've helped me build it. I did eventually add a scarf to hide the cleavage since the bus passed right in front of our house and he was still technically a new kid, but he learned his lesson. 😉
So, about my participation in Marin's awesome Christmas blog hop. Thanks, Marin, for the opportunity, by the way. The Bayou Secrets Saga consists of three books that follow the same three characters, Caroline, Trevor, and Cade, throughout the series. I will give you the inside scoop and avoid spoilers as much as possible.
Soon after accepting a marriage proposal from Trevor Callahan, her sexy boyfriend of two years, Caroline Fontenot has recurring crazy, realistic, and sometimes frightening dreams of the same young girl searching for something while running from a dangerous man. The details of each disturbing dream stick with Caroline, and, while she doesn't believe in ghosts, she cannot deny the creepy, unusual things happening in her life. Persuasive Trevor, eager to finally have naïve and innocent Caroline in his bed, puts a rush order on the nuptials and insists she face the one unresolved issue in her life to clear any conflicts that may rise before their wedding. He wants her to confront her father who left her and her mother when Caroline was only a toddler, forgive him and develop a relationship so there won't be any "Daddy issues" in their marriage. Not an unreasonable request except that she hates her dad for what he did to her mom, and has no desire to meet him, much less bond with him. But she is and has always been curious about him.
The story begins in Golden Meadow, Louisiana as Caroline pulls up in her estranged father, Eddie Fontenot's driveway during a torrential downpour like she's never seen before, wondering what in the world she's supposed to say, how he'll react, how she'll react to his reaction, whether or not she can control her temper, and all the while hating Trevor for making her do this, and cursing her raging curiosity for not letting her just blow it off and tell Trevor no ring or nuptials were worth it.
She swallows her pride, pulls up her big girl britches, and follows through with the plan only to realize the house her father lives in is the very one from her dreams. There was more to this story that she ever imagined, crazy coincidences, goosebumps, initials scratched into the window of her room, and the tale of her great, great, great grandmother, Rachel Fontenot including her mysterious death. Caroline decides to stick around to do some research at the library and town hall, but she wasn't prepared for the library worker to be a charming, incredibly handsome Cajun stud named Cade Beauregard.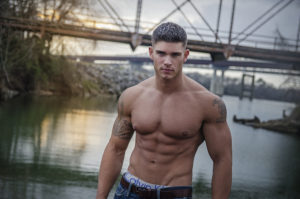 Cade, playful and sweet, captivates her attention, renders her speechless—not an easy feat–and challenges her. And, more importantly, their unmistakable chemistry has Caroline questioning everything she ever thought she wanted. But she made a promise to Trevor, and she never makes a promise she can't keep.
The plot thickens when Caroline meets her conniving step mother, April, and things she'd only ever heard of in the movies start making their way into her life. Stranded spirits, voodoo, mafia threats, and attempts on her family's lives are her new normal.
Cade does his best to convince Caroline he's better than Trevor, but the savvy Chicago architect doesn't bend to intimidation, nor does he appreciate some meddling redneck trying to steal his woman. He fights back and things get tense.
I won't risk spoilers by revealing any more details, but you get the idea, and the story only gets better and deeper with each book.
Thank you for joining me today! I am randomly picking commenters for two giveaway prizes related to my Bayou Secrets Saga. Up for grabs is: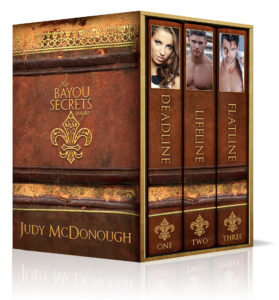 1) A digital copy of the boxed set of all three full-length novels.
2) A candle tin that smells like Cade. It's an outdoorsy blend of juniper, cedar, balsam and musk. This fragrance is the essence of a sexy, outdoorsy man, and Cade's character fits that description. He's also mysterious and the guy who's always there when you need him. If you love the scent of the woods and a touch of musk, you will love this candle.
For Christmas fun, I'd like to share with you the Cajun version of The Night Before Christmas by Written by: Trosclair.
Twas the night before Christmas an' all t'ru de house,
Dey don't a ting pass Not even a mouse.
De chirren been nezzle good snug on de flo',
An' Mama pass de pepper t'ru de crack on de do'. 
De Mama in de fireplace done roas' up de ham,
Sit up de gumbo an' make de bake yam.
Den out on de by-you dey got such a clatter,
Make soun' like old Boudreau done fall off his ladder. 
I run like a rabbit to got to de do',
Trip over de dorg an' fall on de flo'.
As I look out de do'in de light o' de moon,
I t'ink, "Mahn, you crazy or got ol' too soon." 
Cux dere on de by-you w'en I stretch ma'neck stiff,
Dere's eight alligator a pullin' de skiff.
An' a little fat drover wit' a long pole-ing stick,
I know r'at away got to be ole St.Nick. 
Mo' fas'er an' fas'er de' gator dey came
He whistle an' holler an' call dem by name:
"Ha, Gaston! Ha, Tiboy! Ha, Pierre an' Alcee'!
Gee, Ninette! Gee, Suzette! Celeste an'Renee'!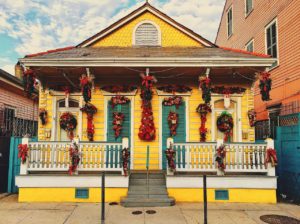 To de top o' de porch to de top o' de wall,
Make crawl, alligator, an' be sho' you don' fall."
Like Tante Flo's cat t'ru de treetop he fly,
W'en de big ole houn' dorg come a run hisse's by.
Like dat up de porch dem ole 'gator clim!
Wit' de skiff full o' toy an' St. Nicklus behin'.
Den on top de porch roof it soun' like de hail,
W'en all dem big gator, done sot down dey tail.
Den down de chimney I yell wit' a bam,
An' St.Nicklus fall an' sit on de yam.
"Sacre!" he axclaim, "Ma pant got a hole
I done sot ma'se'f on dem red hot coal."
He got on his foots an' jump like de cat
Out to de flo' where he lan' wit' a SPLAT!
He was dress in musk-rat from his head to his foot,
An' his clothes is all dirty wit' ashes an' soot.
A sack full o' playt'ing he t'row on his back,
He look like a burglar an' dass fo' a fack.
His eyes how dey shine his dimple, how merry!
Maybe he been drink de wine from de blackberry.
His cheek was like a rose his nose a cherry,
On secon' t'ought maybe he lap up de sherry.
Wit' snow-white chin whisker an' quiverin' belly,
He shook w'en he laugh like de stromberry jelly!
But a wink in his eye an' a shook o' his head,
Make my confi-dence dat I don't got to be scared.
He don' do no talkin' gone strit to hi work,
Put a playt'ing in sock an' den turn wit' a jerk.
 He put bot' his han' dere on top o' his head,
Cas' an eye on de chimney an' den he done said:
"Wit' all o' dat fire an' dem burnin' hot flame,
Me I ain' goin' back by de way dat I came."
 So he run out de do' an, he clim' to de roof,
He ain' no fool, him for to make one more goof.
He jump in his skiff an' crack his big whip,
De' gator move down, An don' make one slip.
 An' I hear him shout loud as a splashin' he go,
"Merry Christmas to all 'til I saw you some mo'!"
For more fun with Judy, check out her website (www.Judy-McDonough.com) or find her on Facebook or Twitter.