Today's guest is Cynthia Blackburn, one of my critique partners from the Passionate Critters. Cynthia is celebrating a bunch of firsts this weekend–her first regency romance, her first self-published book, and her first book blast with me! 🙂 Her Regency romance, A Rogue of One's Own, releases Sunday, December 4. Happy book birthday, Cyn!
A Rogue of One's Own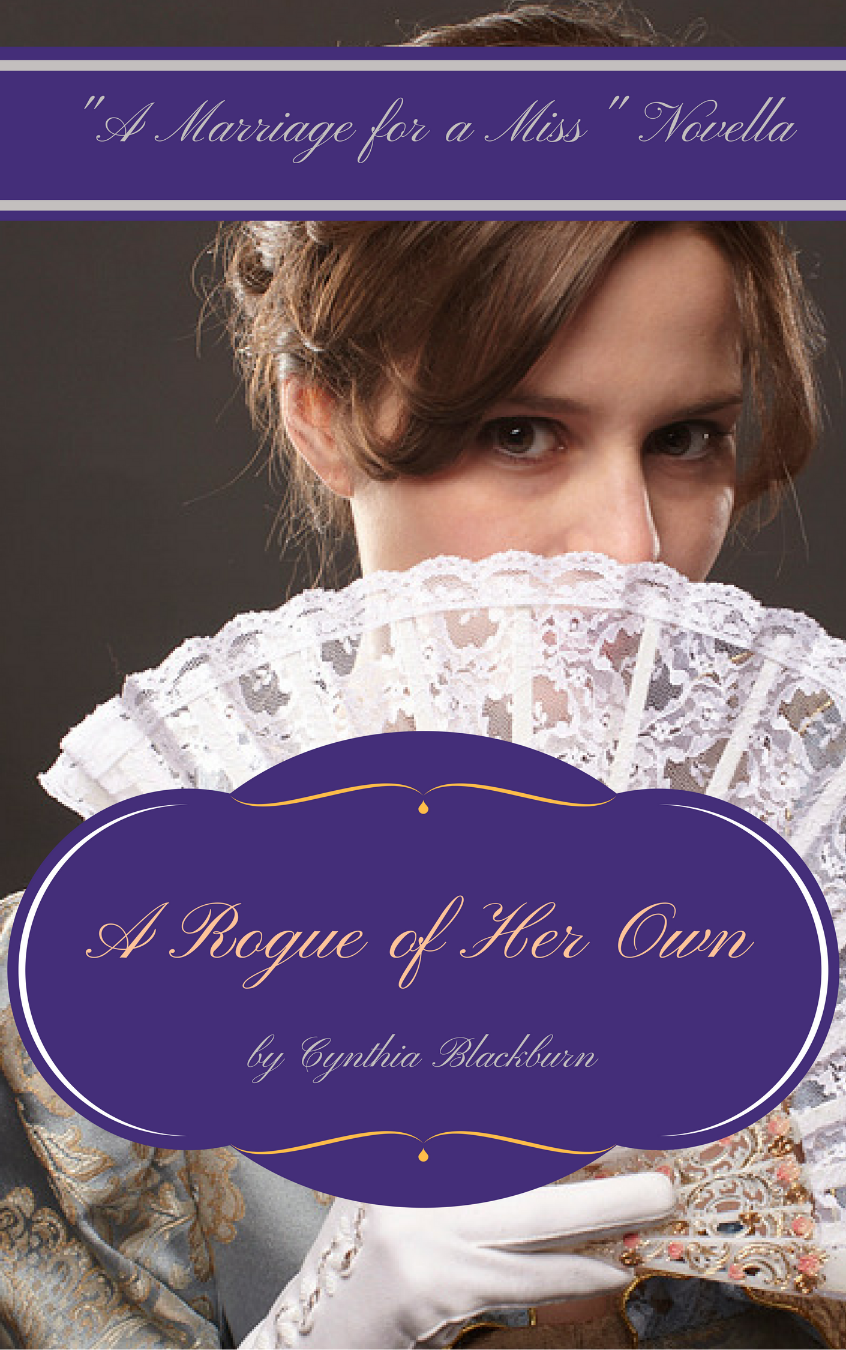 Lady Georgina Pelham has accepted her fate. After one disastrous season, she knows she's not ever going to be more than a wallflower, and her only chance for marriage is to allow her half-brother and stepmother to contract her to the highest bidder. But their choices are dreadful. If only she could find a husband who loved her instead of one who would treat her as if she didn't exist.
Sebastian Raphael Martin Locksley, Earl of St. John, has a reputation as a rogue. He also has a mistress problem, because Miranda—his convenient of three years—took it into her head to introduce herself to his mother and sisters in front of everyone in the ton. It's a social disaster for his sisters and especially for his family. He needs to save face and save his sisters' chances to marry, and that means dismissing Miranda, something he'd rather not do.
So when the opportunity arises to escort Lady Georgie and make her appear appealing to eligible bachelors of her choosing, he realizes the gossip-mongers will focus on that instead of Miranda's faux-pas. He'll be able to keep his mistress, and Georgie will find a man of her own choosing. It's the perfect solution for both of them. Until they start to fall in love…
Excerpt:
"And what sort of husband are you seeking, Lady Pelham?" Sebastian asked, not expecting her to answer.
But then, she lifted her face, and he caught his breath. She wasn't even close to being an Incomparable by ton standards, but Lady Pelham had the biggest, most luminous eyes he'd ever seen. Framed with long, dark lashes, they were an unusual shade of blue that appeared almost lavender when the light hit them the right way. Like right now. He blinked, and so did she. "I'm not," she said quietly. "Not really."
"Oh, bosh. Yes, you are, Georgie." Charlotte stamped her foot. "You need a husband. A good one, not one that Percy and Eudora pick for you. Why, you could end up with someone ancient!"
In "Georgie's" eyes, Sebastian could read so many things. Tolerance, for one. Suffering, for another. Embarrassment. Annoyance. And love. She wanted to throttle Charlotte, he could tell, but because she loved her friend, she was allowing her to push her about this way.
Plus, she didn't expect to succeed in her own quest for a mate. How he knew that, he didn't know, but he was absolutely positive that Miss Georgina felt her friend was fighting a losing battle in her defense. Which was silly. She was perfectly lovely—it's just that she needed to let herself… "Glow," he murmured.
"I beg your pardon?" Miss Georgina murmured back.
"I—excuse me. I was just thinking aloud. Forgive me." Of what he was thinking, he had no idea. Sebastian straightened his shoulders and cleared his throat. Damn spring in London. The fresh air was giving him fits of poetry, and worse–gallantry.
You can find A Rogue of Her Own on Amazon.
Bio:
Cynthia Blackburn is better at writing than at taking selfies. Her favorite thing to write is romance. When she's not writing, she can be found mucking out stalls for Horses Bring Hope, a non-profit organization, or mucking out the house for her three children, two dogs and one husband. A native of Rhode Island, she guzzles coffee (hot or iced), and enjoys haunting historical cemeteries and deserted local beaches.