Akron's been on my mind lately, as I've been there more in the past two weeks than I have in years. Okay, only twice, but still.
Last week my husband and I went to a concert (Wilco, in case you were wondering) at the Akron Civic Theater, which is truly one of the oddest looking buildings I think I've ever been in.
Strangely enough, given that my dad grew up in Akron and my grandmother lived there almost her entire adult life, I had never been there before. It was originally envisioned as "the Hippodrome," a 3,000 seat movie theater with an arcade full of shops and restaurants. It was designed in 1919 by L. Oscar Beck, an Akron dance hall owner. Construction began and the lobby was built, but the project was bankrupt by 1921. In 1925, the abandoned lobby and adjacent land along the Ohio and Erie Canals were purchased by Marcus Loew–who founded the Loew's theater chain and Metro-Goldwyn-Mayer studios–and designed by architect John Eberson.
The theater was completed in 1929, two years after Loew's death. Its interior was fashioned after a Moorish castle featuring Mediterranean decor, including medieval carvings, European antiques and Italian alabaster sculptures. Eberson also designed the theater to be "atmospheric," featuring twinkling starlit skies (seriously, it's wild–this picture of mine doesn't do it justice at all) and drifting clouds.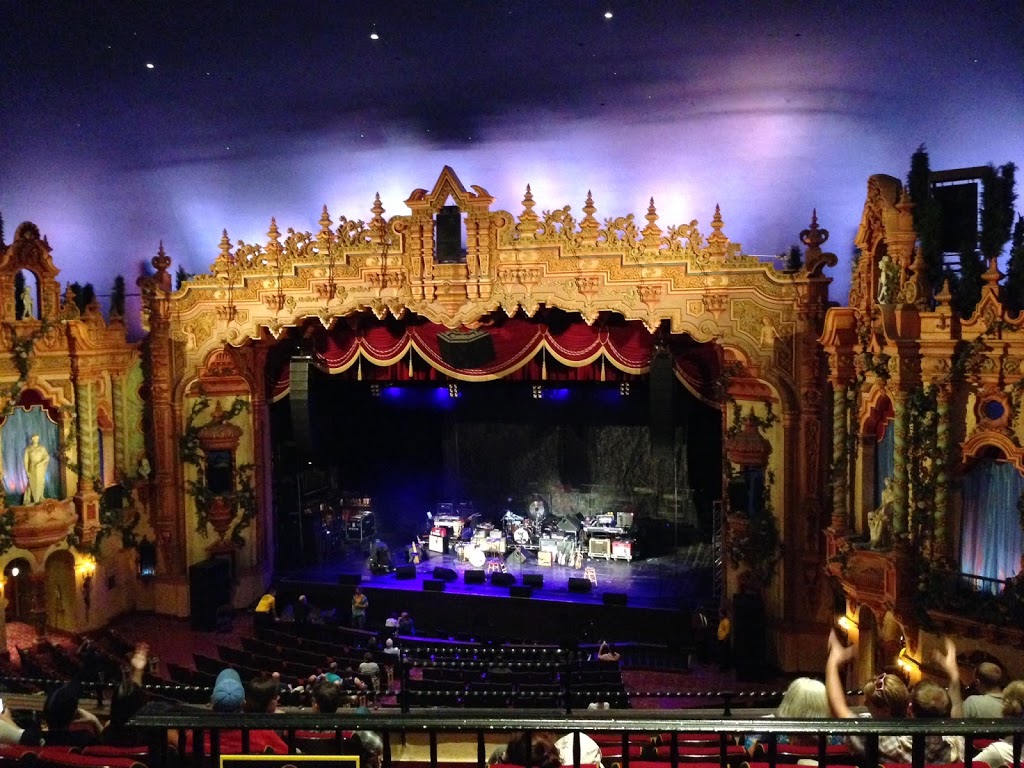 Proscenium arch, Akron Civic Theater
I had never seen or heard of an atmospheric theater before, so being the nerd that I am I needed to do some digging. The Akron Civic is one of the largest remaining examples of atmospheric theaters in the US. It was nearly destroyed in the 1960s, but for the enterprising persistence of a group of Akron matrons, who saved the theater from destruction and insured its continued success. (Ironically, they did so in part by selling popcorn, the smoke and grease from which so blackened the walls that the theater underwent a $19 million cleaning and renovation in 2001. Or at least that's what the guy selling beer(and no popcorn) told us.)
John Eberson was born in Romania in 1875 and immigrated to the U.S. in 1901. He developed the atmospheric design, and by the end of his career had designed anywhere from 100 to 1,200 theaters, depending on which website you choose, all over the world. Usually designed with European themes, Eberson's theaters featured large sky-blue ceilings with twinkling stars and clouds, and facades on either side. You can almost imagine you are in a courtyard in some ancient European city. Almost. We really weren't sure what the fake Christmas trees along the top were doing in a Moorish castle.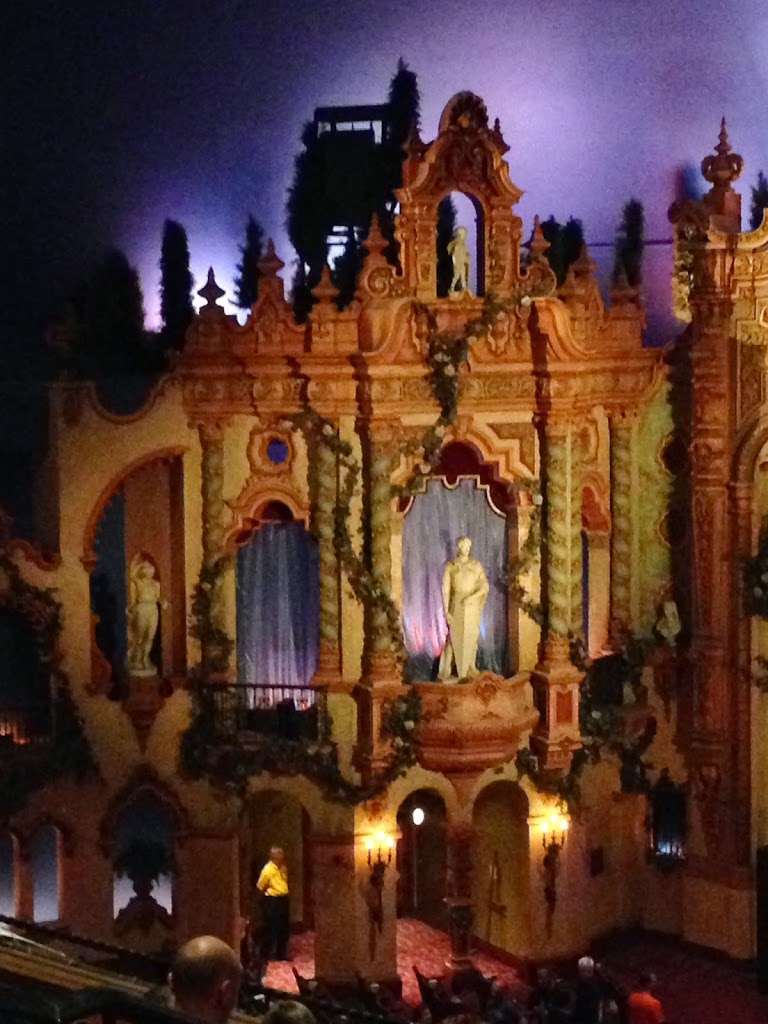 Left facade, Akron Civic Theater
.
It's curious that so many of his theaters are in Ohio, and some in relatively small towns as well. Eberson designed the Colony Theater in Shaker Heights, which is now Shaker Square Cinemas (a slightly bizarre art deco space), as well as theaters in Marion, Canton, Bellefontaine (the only one with a Dutch motif and working windmills), Bryan, Celina, Norwalk. Perhaps it is because he built his first theater, the Jewel, in Hamilton, Ohio, and started his own architectural firm in Hamilton.
Have you ever been in an "atmospheric" theater? What did you think?
Resources
In addition to the links embedded above, check out these sites for more information and some great pictures:
http://www.ohio.com/lifestyle/akron-s-lost-landmark-retains-a-grand-facade-1.154282
http://en.wikipedia.org/wiki/John_Eberson
http://auburncinefile.com/schines_friends_page
There are some wonderful examples of Eberson's work at this interesting blog about, of all things, ornamental plaster.