I am very pleased to welcome one of my talented critique partners, Lynn Crain. Lynn's latest release is an erotic, paranormal romance, Night of the Blue Moon. Given this weekend's blue moon, it's quite apropos. Welcome, Lynn!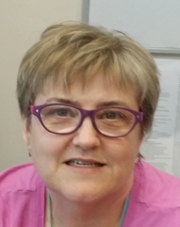 Tell us a bit about you. Where do you live, and how long have you been writing?
Right now, I live in Vienna, Austria. I've been here four and a half years while my husband works his dream job. Normally, I'm from the hot Southwest.
I've been writing since I was twelve. My first book was going to rival Gone With The Wind. Yeah, right…LOL!
Hey, you never know. 🙂 What inspired you to write this book?
A friend of mine asked me to critique her work and I said yes. As I worked through her story, it called to me. I then asked a lot of questions then sent her and the other two authors a proposal for a fourth book. This one would be about a brother the three sisters had no clue they had.
What does your writing process look like? 
I'm a total pantser though in reality, it totally depends upon the book. Anything over 50K and I'm writing down things to make sure I don't forget something. If it's over 75K, I really try to have a Bible for that book or series as I don't want to make any dumb mistakes.
I'd be lost without Writeway Pro. I'm always forgetting secondary character names and eye color, but I can look them up with just one or two clicks. What do you do when you're not writing?
I take walks, go to museums, hike or watch movies. They finally got Netflix over on this side of the world and I get to see all the BBC stuff first hand. It's awesome!
I am totally addicted to Netflix–I might need to cut myself off. What are you working on now?
I always seem to have five or so projects going. My big one right now is called The MacKenzie Series and is again about siblings in a very rich family. The first book is done and with my agents but now I've got to complete the next two.
I've also got a short story series going and am preparing a few proposals for my agent in the fantasy romance realm.
Five? Wow! I thought I was crazy for having two or three.  So, many authors do detailed character sketches before writing, even if some of the details never appear in the book. Name one thing about either your hero, heroine (or both) that didn't make it into your book, but is important to who s/he is.
When developing my hero, I got the weird sense he didn't like creepy crawly things. That never shows up in the book.
Who is your favorite literary hero? Heroine? Villain?
I have so many but I'll go with Rhett Butler as he was my first. Heroine…wow…that's a little harder. I think right now it's Katherine "Kitty" Katt from Gini Koch's Touched by An Alien series. She's pretty awesome. And the villains would have to be from those books as well. She has a new one with each book and one big guy that I haven't seen yet who's a real ass.
How do you come up with character names?
Sometimes, they come to me without thought. Other times, I have to do a little research, try a few names on until I finally come up with the right fit.
Me too. Name one thing about you that most people don't know.
Garlic dill pickles and green olives with pimentos are two of my favorite foods.
Not at the same time, I hope! 😉 What's first on your bucket list?
Live in Scotland for at least a year.
I love Scotland! Such a beautiful country. Other than "butt in chair," what piece of advice would you give to an aspiring author?
It comes from a movie: 'Never give up, never surrender.' As writers, we always need to keep writing no matter what.
Excellent advice, and something I've tended to forget lately. What book are you reading now?
Bound to Secrets by Nina Croft. It's a really great series.
Thanks for hanging out on my blog, Lynn!
Thanks right back…I really appreciate it!
Night of the Blue Moon, Blue Moon Magic Series, Book 4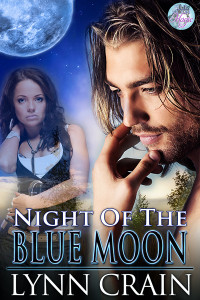 By Lynn Crain
Released: April 29, 2015
One father.
Two mothers.
Four siblings.
One incredible story about that special night which changes them all. Forever.
All his life Connor Angus hadn't belonged. Finding out he was the long thought dead son of an Elite pack leader didn't help matters. With that knowledge comes a family full of sisters, mystery and longing for things he's not sure he has any right to obtain. One of those things is Cordelia Sinclair.
Excerpt:
Falling back into the kitchen cabinets, he briefly clutched his side. "Damn it, you're just not going to give up easily, are you?"
"Why should I?" She eyed him cautiously.
"Because I could seriously hurt you."
"Now why don't you just give it your best shot then we'll see just who gets hurt."
The man slowly shook his head. "All right, now remember, you asked for it." He threw a punch that landed squarely on the left side of her head.
Cordelia shook it off but it still left her ear ringing. Grabbing his other arm, she charged into his stomach with her head and flipped him over her back. He landed with a resounding thud on the floor next to the table and on top of the broken china. She was only able to stand there a moment, her sides heaving, when she was knocked off balance by his leg making a wide sweep. It almost knocked the air completely out of her but she managed to throw another punch on her way down.
He grabbed her fist and twisted her arm, picking her up and shoving her facedown once again on the table.
"You have no right being on top of me, so get the fuck off." She gasped for breath, his added weight making it hard to even move a centimeter.
"You know, I think you're a little bit sexy when you're pissed like this. I can smell your pheromones. You want me."
You can find Night of the Blue Moon at these retailers:
Amazon US
Amazon UK
Barnes and Noble
iBooks
Kobo
Smashwords
Inktera
Scribd
Bio: Award winning author Lynn Crain has done it all in her life. From nursing to geology, her life experiences have added to her detail rich stories. She loves writing full time as she weaves contemporary, fantasy, futuristic and paranormal tales, tame to erotic, for various publishers. Her home is in the desert southwest though her latest adventure has taken her to Vienna, Austria with her husband of many years as he works his dream job. You can find her on the web at www.lynncrain.blogspot.com. She loves hearing from her readers at [email protected].