Today I'm joined by fellow Wild Rose Press author Shereen Vedam. Welcome, Shereen!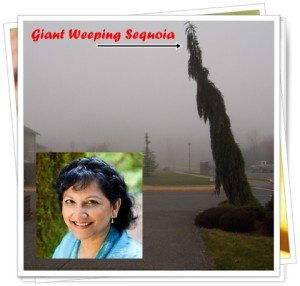 Hello Marin, thank you so much for having me over on your beautiful blog. Love your bookshelf! I'm very happy to be here.
Thanks, Shereen! Tell us a bit about you. 
Though I was born in Sri Lanka, my roots are now firmly planted on Vancouver Island, British Columbia, Canada. Sandals and shorts for 9 months of the year suits my lifestyle to a T. I love Vancouver Island's magical rain forest, with its ancient cedar, red-barked arbutus and giant weeping sequoia. I have one of the latter trees in my front garden! Neighbors will probably start to complain once it's full grown (they can live for +100 years, grow up to 30 feet high, with an 8-foot spread). For now, it's a nice, spooky guard at the bottom of my driveway, inspecting each tiny Halloween trick-or-treater as s/he considers the wisdom of approaching the long driveway up to the house.
I have never been to British Columbia, but it's definitely on my bucket list. It's sounds gorgeous! What inspired you to write A Devilish Slumber?
A Devilish Slumber is Book I of The Rue Alliance series, three fairytale-inspired Regency paranormal romances. As for what inspired this first book, well, it's a given that I love fairy tales, but I have always been particularly fascinated by the Sleeping Beauty tale. It has such a haunting feel (a bit like that Weeping Sequoia above on a foggy morning). The ending of this story could so easily have gone totally wrong for the poor be-spelled heroine (and it has in some versions of this fairy tale). Probably why so many people like home alarm systems. Who knows what might be going on while we're sleeping? But all that negative thinking aside, what woman isn't touched by the romantic concept of a kiss from her true love bringing her back to life?
The trick with writing a re-make of such a classic story, however, is how to instill a fresh perspective on an age old tale. So, in A Devilish Slumber, I aimed for a unique take on what first startles this beauty awake, and what peril she will face once she is completely present in her sinister new world. As for the resident villain, Maleficent goes by a different name in my book. But then, evil can wear many faces. And it certainly does in this shape shifter book, in which people can literally, magically, change how they look.
It sounds great! Definitely on my TBR pile. What does your writing process look like?
I used to be a firm plotter, and in fact, all three books of The Rue Alliance series were plotted first, then written. That changed with the three books I'm currently working on, which have so far been written entirely by the "seat of my pants." A big difference in the two styles of writing is that being a panster takes way more time to finish a book than being a plotter. But it's also more fun. And one day, I'm (fairly) certain, that I'll finish this series too.
I tried being a panster, then a sort of hybrid plotter/pantser. With my current WIP, I'm trying the plotting route. Hopefully it will get me through the dreaded middles. What are you working on now?
My current WIP is also set in a Regency world, though now fantasy plays a major role, transforming these Regency romances into alternate history fantasies. In this new world, witches and warlocks, fleeing from a dying world, had transported themselves to earth in the 1500s. Unfortunately, shortly after arrival they discover that their mind magic doesn't work quite the same on earth as it had on their world because this new world has an overprotective god who is fiercely defensive of earth's human inhabitants' right to use free will. Three hundred years later, after the horror of witch hunts when more humans were killed than anyone else, witches (females) or warlocks (males) have had a falling out on how they should interact with the native human population. They're hiding in England, with witches occupying Cornwall, and warlocks ruling Wales, and Regency life was never the same.
Sounds fascinating, but complicated. I know I could never manage to create a whole new world like fantasy authors–I'm envious! What do you do when you're not writing?
I work full time as a data coordinator for a ferry company. So I spend my days arranging numbers and designing graphs, and my nights dreaming about wizards and dragons playing Quidditch using pie charts.
If you had a superpower, what would it be?
I've written lots characters with various types of paranormal abilities, but only one ever had the "feel" of a superpower, which makes me wonder if that might be the superpower that I secretly crave. The character with this extraordinary ability is Christopher de Wynter, and he is the hero of A Season for Giving, a Christmas short story Regency romance, inspired by the fairytale Goldilocks. It's in an anthology called One Winter's Night. Christopher can scale walls and leap across London's frosty rooftops with ease. I'd love to be able to do something like that. Wouldn't you?
Absolutely. 🙂 What's first on your bucket list?
I just completed the first item on my bucket list. Though I was born in Sri Lanka, I hadn't been back there since I was five years old. For years I've wanted to visit, but there was fighting taking place there. But hostility has finally stopped, and this year, in mid-July 2015, I had a chance to return to this tiny island located at the southern tip of India. I stayed for one month, spending one week with family, two weeks on a wonderful tour, and the last week back with family, before returning home. It was a memorable trip. I suspect it might have changed who I am. If you want to read a little bit about my trip there, I've listed a few of my impressions here: http://shereentwo.livejournal.com/25607.html
To find out more about Shereen and her books, visit:
Website: http://www.shereenvedam.com/
Facebook Page: https://www.facebook.com/ShereenVedam
Twitter: https://twitter.com/ShereenVedam
Amazon Author Page: http://www.amazon.com/Shereen-Vedam/e/B005A53Q10/
Goodreads: https://www.goodreads.com/author/show/3415603.Shereen_Vedam
Join her Newsletter: http://eepurl.com/vuU_b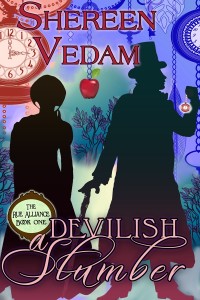 A Devilish Slumber by Shereen Vedam
Beauty awoke, and then the trouble began…
Since dealing with the death of her sister, and her abandonment by Sir Phillip Jones—the man who professed to love her—Lady Roselyn Ravenstock has lived as if sleepwalking. Mired in grief, she sequestered herself in her home, avoiding all callers. Then she meets Mrs. Helen Beaumont, and Rose starts to come to life . . . until Helen is murdered. But this time, Rose isn't going back to sleep. Vowing to avenge her friend, Rose dons a costume and goes out into the night looking for a killer.
Sir Phillip, the Regent's favored spy, returns from war determined to win back the woman he was forced to leave three years ago. But when he witnesses Rose covered in blood, racing from a brutal scene while gripping the murder weapon, he goes on a desperate mission to unravel what he hopes is a case of mistaken identity.
The investigation leads Rose into a world of enchantment, where people can reshape their features, fires are begun with a snap of fingers, and objects move of their own accord. But the real magic is the blazing attraction that is re-awakened between her and Phillip.
Will Rose ever get her happily ever after? Possibly. But first, she'll have to convince Phillip of her innocence—before the killer strikes again. . . .
Excerpt from A Devilish Slumber:
Soon, with her arms full of musty old garments, she climbed down the creaking stairs, taking care to not to trip over her skirt hems. Once she kicked shut her bedroom door, she set her candle on an end table and dropped her handful of clothes on the bed and a pomander rolled to the floor and bumped against her slipper. She retrieved it, inhaling an elusive scent of orange and vinegar. Orange had been her father's favorite scent.
She quashed a sudden longing for his advice, and straightened her shoulders. Quickly, before she might change her mind, she put on his shirt, breeches, neckcloth, waistcoat, and coat. Then she sat on a chair and tugged on his Hessians. Wearing his clothes was oddly comforting, and reminded her of the many times that she and Eve had played "dress-up" with their mother's clothes and shoes.
Chin lifted in defiance of all the propriety and comportment lessons heaped on her by the governesses her grandmother had employed, Rose strode before her tall oval looking glass for inspection. Her father had not been a big man, so his attire, though a little loose, was presentable.
For a moment, she could have sworn she felt someone pat her on her shoulder and whisper, There is my brave girl.
With a firm breath, she next resurrected the most dangerous part of her disguise—to magically change her body. Shifting, her grandmother called the ancient family gift.
This shift would be more difficult than any she had done before, for, if her plan was to succeed, she must be able to convince a stranger that she was a man. Only a man would be able to delve into the details of Helen's death with impunity. Rose called on her talent and felt cold satisfaction as her magic sprang to life. Every part of her tingled with animation.
She began her transformation at the top of her head by shrinking her shoulder-length blond hair until it hugged the curves of her skull like a snug cap. The Cimaruta immediately warmed, like an alarm rung. Ignoring its caution, she reshaped her pert nose into a snub shape. The sensation was similar to twitching her nose in reaction to an oncoming sneeze.
Then she set to work on her distinctive sea-green eyes. Her sight went out of focus before the candlelit room became clear again. Her eyes were now a muddy forgettable brown. She then dulled the fullness of her lips into a thin straight line. Finally, she flattened her breasts. That felt akin to a wide steel band being strapped across her chest, or a corset tied too tight, too high. And in the looking glass, Rose vanished, and a male stranger appeared.
For the length of a pent-up breath, she stared with critical scrutiny at the image of a nondescript, ordinary, and she hoped, forgettable, young man.
With top hat in hand, she picked up her father's walking stick and headed outdoors, muttering, "I will avenge you, Helen. You have my word."
You can find A Devilish Slumber at these retailers:
Amazon US
Amazon UK
Amazon CA
Barnes and Noble
iBooks
Kobo
Google Play
Bio: Once upon a time, Shereen Vedam read fantasy and romance novels to entertain herself. Now she writes heartwarming tales braided with threads of magic and love and mystery elements woven in for good measure. She's a fan of resourceful women, intriguing men, and happily-ever-after endings. If her stories whisk you away to a different realm for a few hours, then Shereen will have achieved one of her life goals.