This week I am delighted to introduce you to friend and NEORWA chaptermate, Sheridan Jeane, who writes action-packed Victorian era romance. The third novel in her Secrets and Seduction Series, Once Upon a Spy, released this week. Welcome Sheridan!
Upon Upon a Spy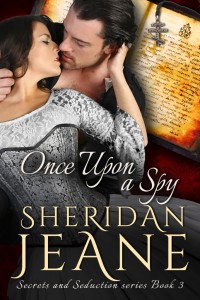 by Sheridan Jeane
Robert, Earl of Wentworth, isn't a spy, and he never wants to be one, but when his brother is injured and needs his help stealing an important book from the Russian embassy, he can't refuse.
Antonia has lost everything. If she wants her life back, she needs that book. The problem is, Lord Wentworth just stole it from the Russian Ambassador.
The reluctant spy and the daring thief find themselves at cross-purposes. Who will win in this dangerous game of nations— especially when their hearts are at stake as well?
Excerpt:
London, January 6, 1854
The turning point in a man's life isn't always accompanied by a crash of thunder. Sometimes it's marked by something much more subtle and easier to miss, like the flash of a silver gown, or the rich hue of a twist of chestnut hair.
Lord Wentworth managed to dismiss his turning point.
As he caught sight of the woman across the ballroom, her strong allure caught his attention, certainly. But he ignored it, believing his immediate visceral response to be nothing more than a reaction to her beauty.
For him, there could be no future with her. Nor with any woman.
She represented a precipice. Danger. One he needed to avoid.
He chose to turn his back on the silver-gowned woman and her pull of destiny. Instead, he stepped out onto the patio to let the chill January air envelop him. It drove away some of the oppressive heat of the ballroom. 
"Robert, come over here," his brother called to him. "Lord Percival is telling the most preposterous story."
He closed the embassy door. The glow of the flickering torches allowed him to identify Frederick sitting with a group of men at a stone table near the edge of the lawn. 
As he strode across the paved patio, Robert considered how fundamentally wrong it was for the Russian Ambassador's winter solstice celebration to be held in a building so overheated the temperature drove the guests outdoors.
 His brother shifted his chair and made space for Robert to join the group. The low oil lamps on the table illuminated the listeners' rapt faces as Lord Percival recounted his latest yarn.
Everyone greeted Robert with brief smiles and nods before they returned their attention to Percival. He appeared well-groomed, with his neatly trimmed, sable-colored beard, his white gloves, and his perfectly tailored evening coat all speaking to the excellence of his valet, but something seemed slightly off about him. As expected, an aroma of tobacco emanated from this particular group, but Percival's whiskey-laden breath came as a surprise. The evening was still a fresh, young thing, with flawless skin and a lively demeanor. Wobbly-looking Percival must have been drinking all afternoon to be so inebriated the odor oozed from his pores.
 "You'll love this," Frederick murmured as he glanced at Robert. The corners of his eyes crinkled as he smiled.
Lord Percival took a puff on his cigar, pausing for effect, and said "…and I forcibly tossed him from the carriage. He landed directly in a steaming pile of manure!" He slapped his hand down on the marble table to emphasize his words, but he clipped one of the oil lamps.
The container flipped over. Oil flew out, splashing onto the table and the cigar Percival clutched. The cigar immediately burst into flame. He dropped it, letting out a sharp shriek of pain and fear. The cigar landed on the table in the spreading puddle of oil. The men jumped back, knocking the chairs to the ground. In less time than a the flutter of a hummingbird's wings, fire swept down a large swath of the tabletop. 
Frederick jumped back too, but his thin evening gloves were already drenched in oil. With mounting horror, Robert watched as his brother froze for an instant. Flames erupted from his hands.
The sickening image chilled him. If Frederick had been a performer on stage, the audience would have burst into applause, but this was no trick. No sleight of hand. It was real, and Frederick's hands were on fire. 
Find Once Upon a Spy and Sheridan's other books on Amazon.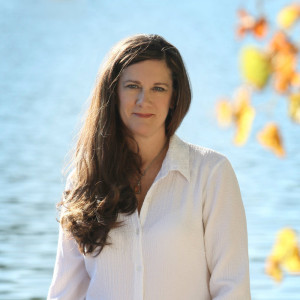 About Sheridan:
Sheridan Jeane writes exciting and emotion-packed historical romances set in the Victorian Era that confront issues of trust and conformity.
With the advent of the industrial age, life was changing. Many people tried to hold on to the old ways of life while others embraced the new opportunities open to them. Join Sheridan as she explores the clash between the old and the new.
Sheridan has always loved books, history, and stories about amazing people who blaze new trails.
Despite naming their daughter Sheridan because they thought it might someday look great on the cover of a book, Sheridan's parents urged her in a more practical direction for college. Sheridan earned a Bachelor of Science degree in Computer Science with a minor in English.