So it's been awhile since I've done an author interview, but I'm jumping back into the fray with a special Thursday edition of an interview with fellow Wild Rose author DeeDee Lane. DeeDee's latest release, My Law Man, is a time travel novella set in the Old West. Welcome, DeeDee!
Hi Marin and All,
My name is DeeDee Lane and this month I'm releasing my third novella in the Slip in Time Series—MY LAW MAN, published by The Wild Rose Press.  I live in Seattle, WA and I've been writing romance since 2010…I give myself that start date because that's about the time I joined Romance Writers of America and made the commitment to write, publish, practice my craft, and hobnob with other romance writers.  I was inspired to write this book by…well let's just say one word…Phebe. This heroine was so clear to me from day one and I just loved putting her in odd situations to see how she'd get out of them and fall in love at the same time.  So for this book I was definitely more of a "write by the seat of my pants" then usual.  I did the basic plot because I want all of the Slip in Time books to have a similar format but then I just kind of let Phebe take over.  Right now I'm working on the 4th book in this series, MY TRAVELING MAN, which is back from beta readers and in the final editing stage.
What book are you reading now?  Well, I'm going to have to come clean and admit it's NOT a romance novel!  I know, I know…but I was in the King County Library and they advertised a book club meeting for a title they categorized as YA (Young Adult).  The book is WHERE'D YOU GO, BERNADETTE by Maria Semple and it is a book I recommend without hesitation. I went to SeaTac airport recently and I swear to you I was looking around for Bernadette!  This character is written with such vibrancy I was not only looking for her but wanted to find her. And yes, the book does take place in Seattle so there was some possibility in my mad searching…except Bernadette is a fictional character… oh well.  Put it on your "must read" list…along with MY LAW MAN!
I love YA–I read it all the time in between romances. 🙂 If you had a superpower what would it be? I would be HEALING WOMAN, able to cure disease with a single touch. The Daily Planet would report me swooshing through the world to spread health and well-being.  I'd wear a peach/pink sparkly cape, definitely NOT tights, and my superhero emblem would be a hand holding a heart.  This is perhaps inspired by a dear friend I lost to ALS in September 2015, yes still grieving and no, still can't believe she's gone.
So sorry for your loss, DeeDee. I know many of us wish we could heal disease as well. What piece of advice would you give to an aspiring author? Give yourself goals and deadlines. If you do that now you'll be prepared when publishers, agents, and contests give you deadlines. I've always done this somewhat but then I took romance writer, Cindy Kirk's, workshop on "Writing Faster," at the Emerald City Romance Writers Conference. I'll probably never match her output but I was inspired to make my goals accomplishable and motivating. So right now my four day goal is to finish three blog entries for MY LAW MAN's release and finish edits on MY TRAVELLING MAN.
Excellent advice! Anything else you'd like to share? Three things I love about living in Seattle: Rhododendrons in the spring, recycling and composting are required, dress code is casual except for top executives and going to the opera.  Three things I don't love about living in Seattle: Traffic on I-5 and pretty much all roads and highways, being far away from family in Wisconsin, North Carolina, and Texas. I'm a Seahawks fan until they play the Green Bay Packers–then it's the Pack all the way.
Thanks, DeeDee! Best of luck with the new release!
My Law Man, by DeeDee Lane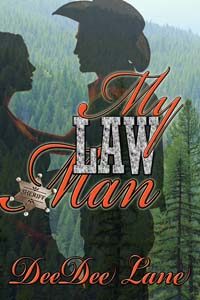 Phebe Brooks is single, cynical—okay bitter—and fighting to stay out of jail by doing community service at the Cowboy and Western Museum. While cleaning a jail cell in the "Lawmen of the West" exhibit, Phebe slips back in time and into the arms of a man who resembles her first love, Rafe Morrow.
Newly hired as Eagle Rock's sheriff, Rafe, a former sharpshooter in the Union Army, came west to start anew.  This seems possible until his town is overtaken by a sassy female constantly complaining about wearing a dress and then a band of outlaws set on robbing the gold from an incoming stagecoach.
Can Phebe and Rafe cooperate long enough to save the town? For Phebe, it's worth the risk. She's determined to let go of past mistakes, get herself on the right side of the law, and have a future filled with love and passion.
Buy MY LAW MAN at The Wild Rose Press
Find DeeDee on line at  http://www.deedeelane.com. You can also catch another interview on Lynda Coker's Blog –
http://betweenthelinesandmore.blogspot.com/2016/07/catching-light-bulb-moment-with-author.html.