I apologize, my friends, for my sad neglect of this blog. I have no excuse, really, beyond being busy and inefficient, and, if truth be told, possessing a certain degree of laziness. But never mind, I am back, so I hope I am forgiven.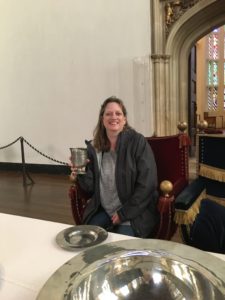 Lately I have been thinking about tea and scones far more than is normal for your average American. This past week I returned from a visit to England, where I traveled hither and yon with my dear college friend Helen, talking and laughing and walking and drinking tea at every opportunity in which wine (or gin, in Helen's case) was inappropriate.
On my first day there I did obtain a scone with jam and clotted cream at Hampton Court (as one does), but all additional efforts to secure afternoon tea were for naught. We arrived at the tea shop as it was closing (as happened at Hughenden Manor and across the street from Jane Austen's house), there was no clotted cream (said in a rather rude "even if we did have cream I wouldn't give you any" sort of tone at the cafe in Hyde Park), or on one occasion (at the 1657 Chocolate House in Kendal), I was in the mood for a cup of chocolate and a sandwich instead.
Spending so much time drinking tea and visiting historic sites last week, I started thinking about the history of afternoon tea. Although tea as a beverage has been common in England since the mid-17th century, it was not until the 7th Duchess of Bedford was feeling a bit peckish that the concept of afternoon tea as we know it today was born. The story goes that sometime in the 1840s Lady Bedford, a close friend of Queen Victoria, found herself desiring a snack around 4 o'clock, halfway between lunch and the fashionably late dinner. She asked for a tray of tea, bread, butter, and cake. This repast was so pleasant she made a habit of it, and then began inviting her friends round to enjoy it with her.
Afternoon Tea–not to be confused with High Tea, which is another animal altogether–consists of tea, small sandwiches, cake, and scones served with jam and clotted cream. It is not only the meal itself but the ritual that makes afternoon tea what it is. Ideally, the tea should be loose leaf, served from a tea pot. Milk is added after the tea is poured, not before. (Apparently there is much disagreement on this issue–I had no idea it mattered so much.) There is also great debate about whether jam should be slathered on the scone before the cream. In the spirit of research I tried it both ways, and admit I prefer jam then cream, which gives one the ability to add far more cream than is strictly healthy.
In an effort to make up for my lack of afternoon tea while in England, I shall be baking scones, brewing tea, and eating this afternoon. (Unless I have to go watch middle school boys play hockey, or take a nap.)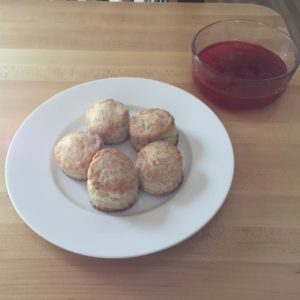 Here's my recipe for scones:
8 oz (approx. 1-3/4 c) all-purpose flour
1-1/4 tsp baking powder
1/8 tsp salt
2 oz (1/2 stick) cold unsalted butter, cut into cubes
1 oz (2 T) sugar
4 fl oz (½ c) milk
*Preheat the oven to 425F. Line a baking sheet with parchment paper.
*Mix flour and salt together in a large bowl. Using your fingertips, lightly rub the butter into the flour until it resembles breadcrumbs. Add the sugar and the milk and lightly mix with a wooden spoon until just combined.
*Turn the dough out onto a lightly floured work surface. Spread the dough using your hands until it is about 3/4 inch thick. Cut out 8-12 scones using a 1-1/2 to 2 inch fluted biscuit cutter. Press straight down–do not twist, or the scones won't rise properly. (Ask me how I know!)
*Place the scones on to the baking sheet and brush with milk or an egg wash.
*Bake for 12-15 minutes, or until golden brown. Remove from the oven and place onto a wire rack until cool enough to handle.
*Serve the scones warm with clotted cream (or butter) and your favorite jam. If you can't find fresh clotted cream in your local grocery store, or you object to paying $10 for a jar, you can find a number of recipes online. Here's the one I'm planning to use, although it takes so long it will have to wait until next weekend's afternoon tea: https://fearlessfresh.com/make-clotted-cream/. I'll let you know how it goes!
For more information on the history of afternoon tea:
http://www.creamteasociety.co.uk/history-of-the-cream-tea
http://www.historic-uk.com/CultureUK/afternoon-tea/
http://www.huffingtonpost.com/lisa-mirza-grotts/the-history-and-etiquette_b_3751053.html?
https://www.fortnumandmason.com/fortnums/short-history-of-afternoon-tea