Hello all! Today's guest is my friend Lynn Crain, who's part of a new anthology of Christmas stories. Holiday Magic is the work of several members of the World Romance Writers.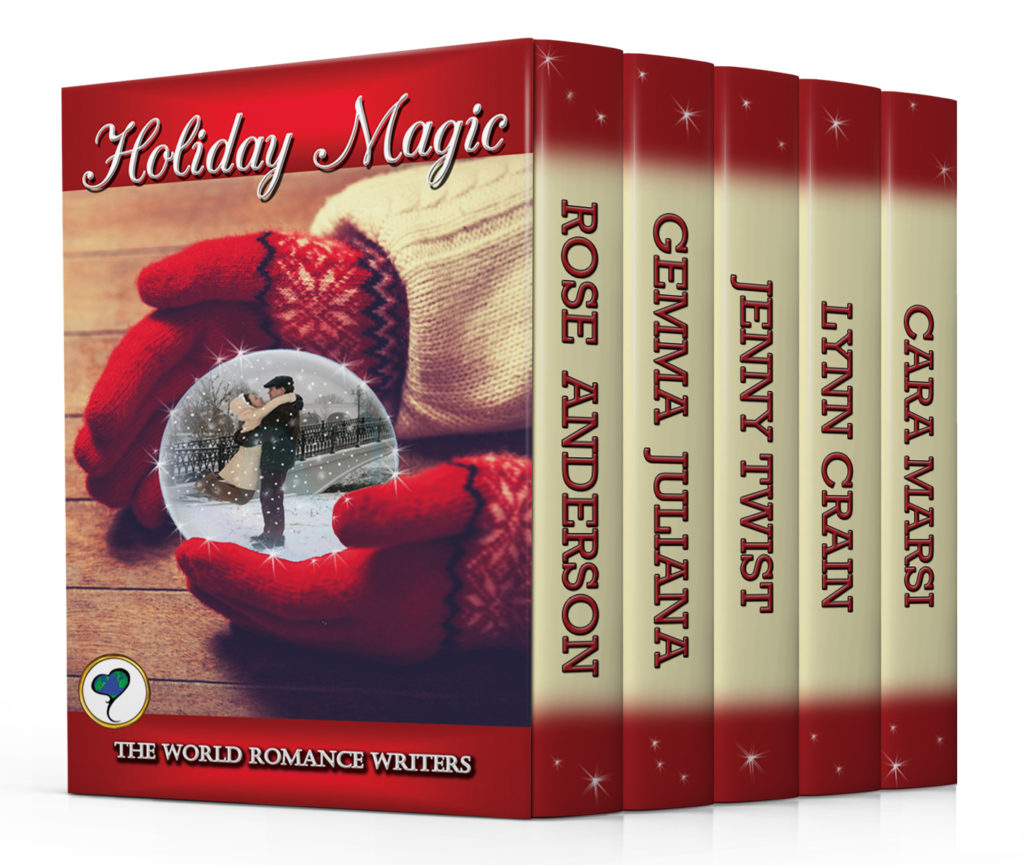 The World Romance Writers wish you joy and love this holiday season with a collection of heartwarming romances filled with Holiday Magic. This anthology features stories, from far and wide, includes contemporary and historical romance, futuristic time travel romance, and romance touched with magic by Award-Winning and Multi-Published Authors: Rose Anderson, Lynn Crain, Gemma Juliana, Cara Marsi, and Jenny Twist.
Come enjoy the many flavors and flavours of our English language.
Holiday Magic is on sale now for 99 cents at Amazon, Barnes & Noble, iBooks, and Kobo, and features these stories:
The Angel of the West Side
By Madeline Archer*
During the Great Depression, newspaper reporter Jack Kennelly went to the streets of Chicago hoping to find proof that good still existed in the world. What he discovered was the West Side had its own angel, and her name was Ruthie.
*Rose Anderson writing as Madeline Archer
Genre: Period Romance
Her Magical Vienna Christmas
By Lynn Crain
Cryptographer Elizabeth "Lizzie" Camden is more in tune with numbers, cyphers and puzzles than she is with the real world. When her job takes her back in time to 1874 Vienna, she's more than surprised to find Michael Sondervan there as well. She hadn't seen him since college when he broke her heart. 
Michael has always regretted the way things turned out between him and Lizzie. When he needs someone to figure out the cryptic warning, he knows he needs the best. And Lizzie is the best. Giving her a magical Vienna Christmas in the bargain, he hopes will bring them together and prove his love to the only woman for him.
Genre: Time Travel Romance
To Kiss a Prince
By Gemma Juliana
Princess Isabelle de Lily knows no life beyond the seclusion of Chateau de Lily. The family castle was frozen in time, frosted over with ice and snow just before her birth. The witch who placed the 99 year curse on her family left only one loophole. The curse will fizzle and 'melt' if one from the royal enemy clan miraculously finds his way to her castle and professes his true love for her on Christmas Day. Citizens of Chateau de Lily hold little hope of that happening since everyone who tries to cross the ice floes dies. Only the resident, ever-loyal, royal wizard Zoltar, who has been in service to Isabelle's family since long before the curse was cast, believes miracles of this magnitude are possible. Twenty-five years have passed, but as Zoltar continues experimenting in his dungeon laboratory, he believes this will be their final Christmas spent in icy isolation.
Genre: Fantasy-Time Travel Romance
A Very Vegas Christmas
By Cara Marsi
Can things get any worse for Las Vegas event planner Amanda Moreau? Her boyfriend dumped her for a stripper; she's arranging a Christmas wedding for a Bridezilla; and her mother is playing matchmaker from 2000 miles away. When she meets hunky and ever-so-sweet Erik, who's in town for a conference, she begins to hope her luck is changing. But Erik has a secret that threatens to split them apart. 
Genre: Contemporary Romance
Marion
By Jenny Twist
Jim Durrant, university don at Oxford, is trapped in the memory of his lost, beloved wife. When his family comes to stay with him for Christmas, he and his grandson write their letters to Santa Claus and Jim asks for the impossible – the return of his dead love.
Genre: Historical Romance
Thanks for joining me today, ladies! To read more about the authors, hop over to Lynn's blog today at http://lynncrain.blogspot.com/ for bios and links.