Today's guest is fellow Wild Rose author, Tena Stetler. Welcome, Tena, and congratulations on your new release!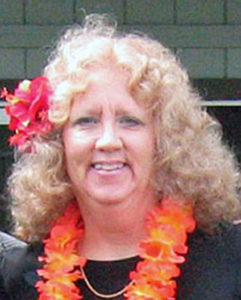 Happy Holidays! First of all a big thank you to Marin letting me join her Winter Blog Hop. If you're interested in Christmas traditions and elves at the North Pole, check out my blog at www.tenastetler.com/my-blog.
For those of you who don't know me, I am a paranormal romance and cozy mystery author with an over-active imagination.  I wrote my first vampire romance at the age of thirteen, to the chagrin of my mother and the delight of my friends. Colorado is home; shared with my husband of many moons, a brilliant Chow Chow, a spoiled parrot and a forty-year-old box turtle. We love camping, hiking, kayaking and traveling.  Any winter evening, you can find me curled up in front of a crackling fire with a good book, a mug of hot chocolate and a big bowl of popcorn.  My books tell tales of magical kick-ass women and mystical alpha males that dare to love them.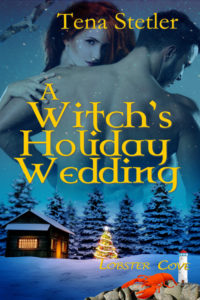 This holiday season I'm celebrating my recent paranormal romance, A Witch's Holiday Wedding, which released December 9th, 2016. It's a sequel to A Witch's Journey, which released in June of 2016.
A Witch's Journey and the sequel A Witch's Holiday Wedding are heartwarming tales of redemption, magic, wildlife rescue, true love and paying it forward.
I love to make new friends and chat with readers and authors. To learn more, visit me!
Website: http://www.tenastetler.com (You can sign up for my quarterly newsletter.)
Blog: http://www.tenastetler.com/my-blog
Facebook Page: www.facebook.com/tenastetler.author
Twitter Page: www.twitter.com/TenaStetler
Pinterest: https://www.pinterest.com/tenastetler
Here's a little peek into A Witch's Holiday Wedding.
Elemental witch Pepper McKay and former Navy SEAL Lathen Quartz have built Lobster Cove Wildlife Rescue and Rehabilitation Center on enchanted McKay land. During a romantic interlude on Halloween night, Pepper happily agrees to become Lathen's wife. What better day than Winter Solstice for their wedding in a town that loves celebrations and Christmas. However, planning a wedding and operating their wildlife center takes a toll on both Pepper and Lathen.
When the couple takes a much-needed break for Thanksgiving with family in Colorado, a Maine snowstorm fills the center with injured wildlife. Lathen finds himself drawn into a covert military mission, while trying to deal with issues concerning friends and family. Pepper wants to cancel the wedding. Is she having second thoughts? Will the nosy McKay ghosts, Lathen's werewolf pack, Pepper's parents, and her best friend help or hinder the wedding and holiday plans?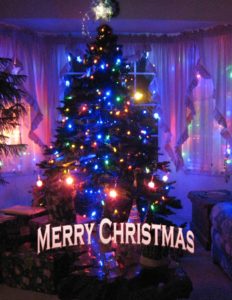 Excerpt:
Half an hour later, Lathen turned the truck onto the gravel drive to the cabin, slowed, and stared at the dark SUV parked in front of the cabin. Slowly he guided the truck behind the vehicle, noticing that the plates were government issue. What the hell is this?
Pepper leaned forward in her seat. "What's a government SUV doing sitting in front of our home?"
"Maybe it's the DIFW," Lathen said hopefully. He turned off the headlights and cut the engine. The doors opened on the SUV, and four men in suits stepped out and waited.
Oh shit, this doesn't bode well. He recognized one of the men, Lt. Commander Raymond Sale. Lathen jumped out of the truck as Pepper opened her door. "Pepper, why don't you go on inside, let Tonk and Ember out, but keep them close. I'll just be a minute."
Pepper glanced from the men and back to Lathen. She opened her mouth to protest, but he shook his head and glanced toward the cabin where he could hear Tonk and Ember barking.
Available at: Amazon, Kobo, The Wild Rose Press,  All Romance, and Barnes & Noble