Becky Lower visits again today with a post about where she got the idea for her new Christmas novella, Love's in the Cards, which releases today from The Wild Rose Press. Happy book birthday, Becky! Scroll down to the bottom for a special giveaway from me and Becky.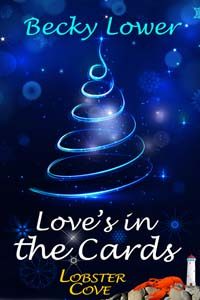 People often ask writers where they get their story ideas. I can't speak for all authors, but for me, it can be something as common as a billboard or as intimate as an overhead whispered conversation. In the case of my latest Christmas novella, it was definitely a memory that had been tugging at me for a while. Since kindergarten, in fact.
Who would have thought an obnoxious little boy who liked to use the soles of my shoes at nap time as a canvas would be the inspiration for Love's in the Cards? His favorite crayon was purple and my mother would get so angry each time he'd go overboard and mess up my sparkling white shoes. That little boy went on to become a high school art teacher and inspired many of his students to be creative. So Delbert, wherever you are, thank you so much for the spark of creativity you've provided to me. But in order to incorporate Del's childish shenanigans into a story, I needed the proper setting. Fortunately, I worked in a Hallmark store part-time for a year while living in Virginia. It was a sweet little card and gift shop and each Christmas season, the door was flanked by a pair of six-foot tall plastic nutcrackers. Later, when I moved to Ohio, I turned that retail experience into a job as a merchandiser for the biggest greeting card company in Ohio, where I learned all about lines of cards featuring famous people or artists. Love's in the Cards combines Delbert's story with my greeting card experiences.
Love's in the Cards
Penny Beedle's outlook on Christmas, as her favorite holiday, was destroyed by a messy breakup years earlier and a botched wedding last year—both on Christmas Eve. But since she and her sister now own a greeting card store, and the holidays are their crazy selling season, she has to put on a happy face.
Del Madison has loved Penny since kindergarten. Commissioned by a big greeting card company for a line of Christmas and Valentine's cards, he has to emerge from behind his alter ego and unveil himself to the public. He chooses Penny Beedle's shop for the big reveal. If he plays his cards right, he just might gain Penny as part of his life.
Excerpt:
Penny sighed softly. Abbey made sense. They had to do everything possible to compete with the other shops, all chasing the same tourist dollars. Even if doing so meant having six-foot-tall nutcrackers flanking the door for the next six weeks. Penny's eyes smarted with sudden tears, but she blinked them away quickly, telling herself the moisture merely came from a reaction to the cold weather. "I think we need new names for these boys, especially after last year's debacle. I now have two reasons to despise the season."
As she wiggled her nutcracker to his final position on one side of the entrance to their shop, Abbey grunted. "This is our make-or-break season, so your attitude has to shape up, Penny. I had hoped a year would give you enough time to get over last Christmas's aborted wedding."
Penny jerked her big statue a bit too hard to the left before she squared him with the frame. She bit her lip at the chastisement as she glanced at Abbey. Anyone could tell they were from the same family, with their dark hair, blue eyes, and slender builds. Often, they were mistaken for twins, even though Abbey had been born two years earlier. The only noticeable difference was Penny could sing in key, but Abbey had a tin ear.
"Even though I'm over both Max and Ricky, their betrayals still hurt. And the fact they both screwed up my Christmases makes me hate the season."
"Well, if getting your head back on straight this year means we rename Hans and Gunther, let's do so. What'd you have in mind?"
Penny squinted up at the lifelike plastic statues towering over them. "I don't mind Hans, but I'll name mine Solo, since that's what I am."
Abbey grinned and wrapped an arm around Penny. "Well then, may the force be with us as we head into our peak season. The weather's finally turned cold, perfect for putting folks into the holiday gift-buying mood. Let's get inside. I've got something exciting to show you."
You can find Love's in the Cards at Amazon.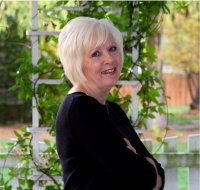 About Becky: Amazon best-selling author Becky Lower has traveled the country looking for great settings for her novels. She loves to write about two people finding each other and falling in love, amid the backdrop of a great setting, be it on a covered wagon headed west or in present day small town America.  Historical and contemporary romances are her specialty. Becky is a PAN member of RWA and is a member of the Historic and Contemporary RWA chapters. She has a degree in English and Journalism from Bowling Green State University, and lives in an eclectic college town in Ohio with her puppy-mill rescue dog, Mary. She loves to hear from her readers at [email protected]. Visit her website at www.beckylowerauthor.com.
And finally, enter here for a chance to win a fabulous Maine-themed gift box Becky and put together to celebrate our new releases, both set in Maine. In addition to the items pictured, Becky is offering a copy of Love's in the Cards!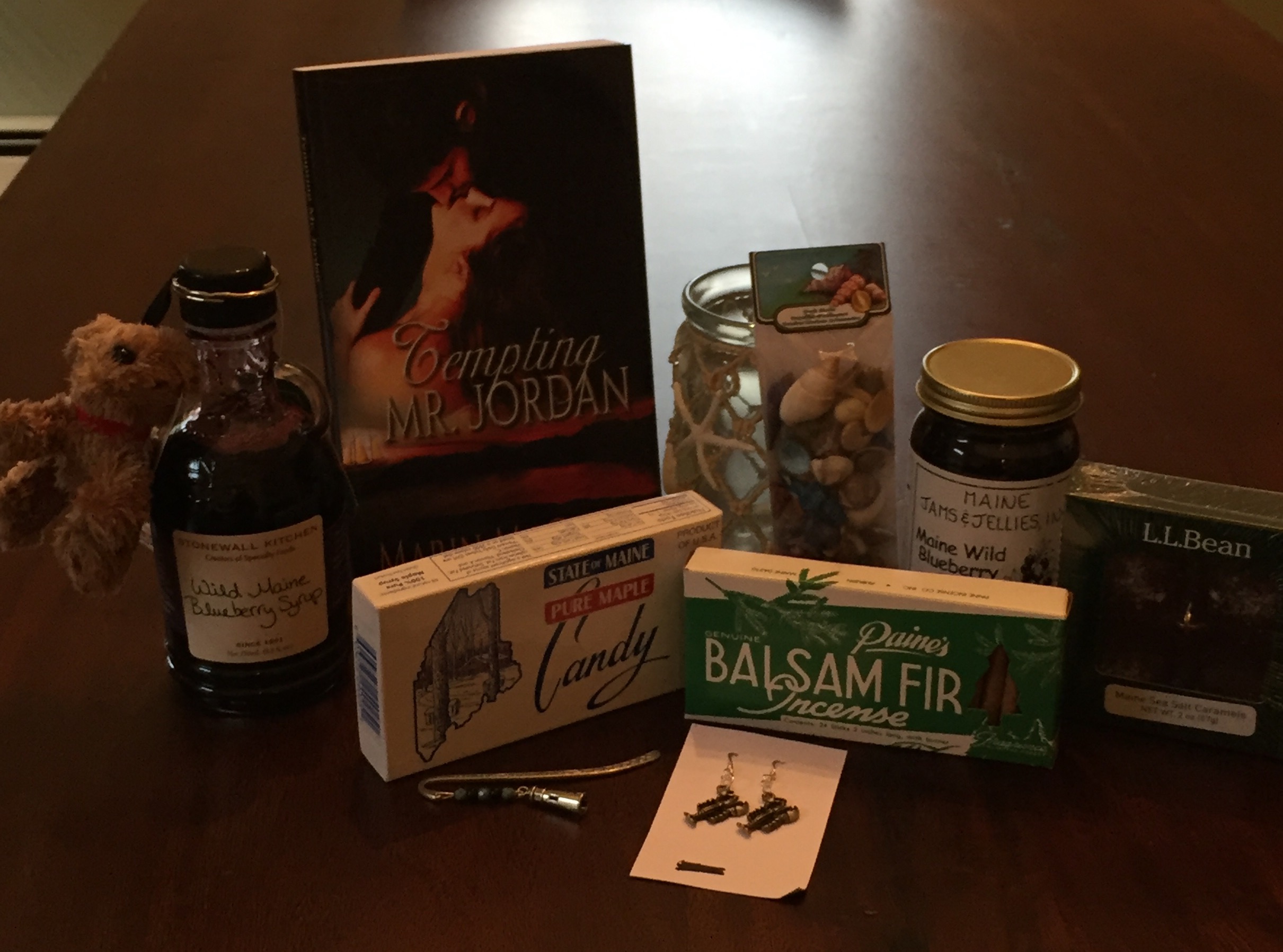 a Rafflecopter giveaway