It's been awhile since I've done a book blast, so I am pleased to get back in the game with the new boxed set featuring my friend and NEORWA sister, Chloe Flowers. Just released, Romance on the High Seas is a fabulous collection of pirate stories by best-selling authors. Chloe will also give a pirate bandana and signed book to a randomly selected commenter. You can also win a Regal gift card so you can keep the pirate spirit alive with the new Pirates of the Caribbean movie, Dead Men Tell No Tales, which releases May 26.
ROMANCE ON THE HIGH SEAS
The Pirate's Debt by National Best-selling Author Katherine Bone: An earl-turned pirate is ordered by his benefactor to find an adventurous young runaway and return her home.To do so, he must retrieve her without being discovered by the most ruthless pirate hunter on the seas: her brother.
Dead Man's Kiss by Award Winning Author Jennifer Bray-Weber: Eight weeks. That's all pirate captain Valeryn Barone has to escort a tempting naturalist untouched across the Caribbean or face the gallows. Can he resist the beauty who's fallen for him? Does a dead man walking even have a chance?
The Black Morass by USA Today Bestselling Author Barbara Devlin: In exchange for a chance at redemption and pardons for his crew, Jean Marc Cavalier accepts a pact that could result in liberty or death, if only he can survive the terms, but at least he will be free.
Pirate Heiress by Award Winning Author Chloe Flowers: Captain Conal O'Brien has already lost control of his ship to the most unlikely band of pirates sailing the seas. If he's not careful, he's going to lose his heart to a notorious lady pirate determined to destroy both.
My Lady Pirate by NY Times Bestselling Author Danelle Harmon: The sea delivers a handsome castaway to Pirate Queen Maeve Merrick's island. But her handsome prisoner harbors secrets dark enough to change the fates of nations and threatens their new found love.
Captivated by the Captain by USA Today Bestselling Author Amanda Mariel: What happens when an American shipping company heiress crosses paths with a pirate? Can two people whose life paths are at odds find common ground?
Carried Away by Kamery Solomon: After falling through time and being forced to join a pirate crew, Mark Bell falls in love with his fellow time traveler, Samantha. She's a woman he can't have, though. Will their presence in the past alter the future they know and love?
To learn more about any of the authors and their stories, click on their names above or check out the High Seas Facebook page. And to buy Romance on the High Seas, visit these retailers: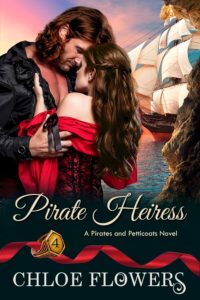 Although I'd love to post excerpts from all of them, this post would get crazy long. Since I know Chloe the best, I'll post this delicious excerpt from Pirate Heiress:
Stevie swallowed and gripped the pistol handle more firmly. Her arm was beginning to tire from holding it for so long, but she didn't dare lower it. The mountain of a man in the tub looked as if he could crush her head like a grape with one hand, and her young cousin's with the other one. More often than not, she could look an average man straight in the eye. However, with this one, she doubted her head would reach his nose.
The man in the tub cocked his brows, then his eyes narrowed before sliding down to her soft doeskin boots and back up again. She should have stayed more in the shadows; she might have appeared a bit more intimidating that way.
"Relinquish your freedom and possessions," she said, barely able to keep the tremor from her voice. Her gaze paused at the gold ring on the man's finger. If they were going to become pirates, she might as well start acting like one. She took a deep breath and drew her shoulders back a little.
"Beginning with your ring," she said, holding out her hand. The man's jaw clenched and the knuckles gripping the tub's edge whitened. What thoughts were flying around in his head? He was contemplating his chances of overpowering her and taking her pistol; she could see that in the way his gaze shifted back and forth between her and her cousin, Remi. If he had a weapon, and if it had been a one-on-one situation instead of one against two (with guns), he likely wouldn't have paused to contemplate it this long. He would have defended himself by attacking them. And he'd have won. Even now, she sensed he was still calculating his odds.
She eased a step back, careful to keep her pistol well within a lethal range. "Please don' t try it," she said. "I' d prefer to save my shot." She was far from her cozy little room off the kitchens of her brother's gaming house. Uncle Bernard had given her a brief lesson on managing a pistol, but it still terrified her to hold it.
His eyes widened and his brows raised in surprise. She' d been right in her assumptions, then. She usually was. Her intuition annoyed her brothers no small amount, and they always avoided her when they wished their thoughts to remain…theirs. Only one of them could hide from her, but he was a gambler and so it was expected, otherwise he wouldn't be a very good gambler, would he?
The man twisted the ring from his finger and tossed it to her. She caught it and placed it on the only finger it would fit—her thumb. "Get dressed," she said, with as much authority as she could muster.
He slowly stood with the oily movement of a cat as he reached for a linen rag. Stevie felt her eyes widen. She was wrong. Very wrong. The top of her head would barely reach his chin, let alone his nose. Wide, thick shoulders took up most of the space in the galley. The muscles across his shoulders rippled as he moved. A long scar trailed from the top of his shoulder to the middle of his rib cage. A fighting man. A very strong, very muscular, very handsome, very naked, fighting man.