Today on the blog I'd like to welcome Jana Richards. Jana is a fellow Wild Rose author, with several books to her credit. Her latest, One More Second Chance, is a contemporary romance set in the fictional town of Lobster Cove.
Tell us a bit about you. Where do you live, and how long have you been writing?
I live in Winnipeg, Canada, which is the geographical center of North America. We like to say we live in the heart of the continent. I've been writing for a loooong time, since the early 1990s. But I wasn't published until 2007.
What inspired you to write this book?
I love small town stories, and I had already started writing One More Second Chance when The Wild Rose Press sent out a call for stories set in the fictional Maine town of Lobster Cove. The series features multiple authors and several romance genres. Since Lobster Cove is a small, close-knit town, I thought it was a perfect fit for my story.
What does your writing process look like? 
I'm a plotter. I create character sketches for my main characters and I write a rambling synopsis of what I think the story will be before I begin writing. The character sketches help me to figure out who my characters are and what motivates them, and the synopsis tells me whether I've got a viable plot.
What do you do when you're not writing?
When I'm not writing I work at my part-time day job. I do yoga and Pilates, though I probably don't exercise as much as I should. I like going to movies and concerts and live theatre, and of course I love reading!
What are you working on now?
I'm actually working on a few things right now. One of the things I'm in the process of developing is a series about the characters in a small North Dakota town. (I told you I like small town stories!) The first book in the series is completed and is called Child of Mine. Lauren Walsh suddenly finds herself widowed and pregnant. But her late husband is not the father of her child. Will she have the courage to tell the people in her small town that the baby's father is her late husband's brother?
The next book in the series is Lauren's brother Garrett's story. Garrett returns from Afghanistan not sure where he belongs now that he's no longer fit for military service. In book three, Garrett and Lauren's sister Charlotte struggles to forget what happened to her in college.
How many books do you have under the proverbial bed? Will they ever see the light of day?
I have two or three books 'under my bed,' but I don't think they'll ever see the light of day. I think I'm a different writer than I was when I wrote those books years ago. I'm more experienced and hopefully I write a much better story now than I did back then.
Share a photo of your writing space.
Okay, here it is. Brace yourself!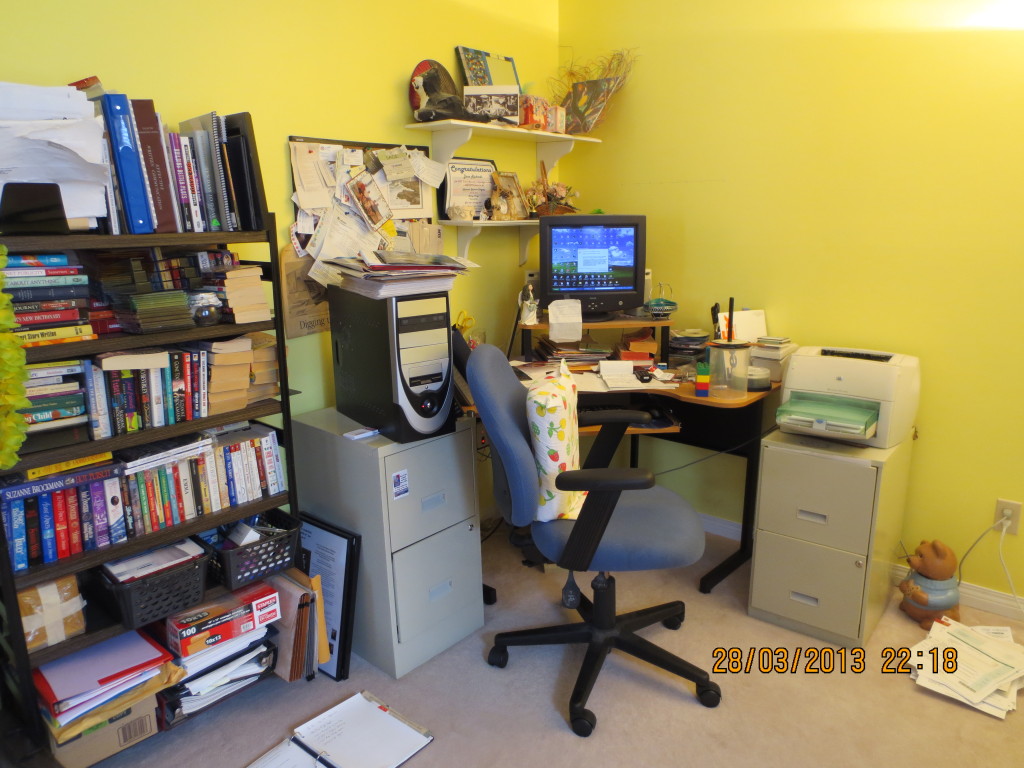 Neat freak or not so much?
You've seen the picture of my office. I think the answer is 'Not so much.'
Other than "butt in chair," what piece of advice would you give to an aspiring author?
If writing is truly what you want to do, don't give up. Only perseverance will get that book written!
Anything else you'd like to share?
My new contemporary romance, One More Second Chance, released on February 6, 2015. I'm having a two-week excerpt blog tour with each stop on the tour having an exclusive excerpt. If you'd like to follow along, check out the schedule on my blog. Thanks for having me on your blog, Marin!
Thanks for joining me, Jana! Good luck with your new release!
 One More Second Chance, by Jana Richards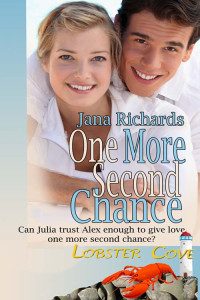 Dr. Alex Campbell has an agenda—finish his contract to provide medical services in Maine, pay off his medical school debt, and head back to his real life in San Diego. But when he meets Julia, all his carefully laid plans are put in jeopardy.
Julia Stewart, Lobster Cove's high school principal, swears she'll never let another man drag her away from the home she loves. Her aging parents need her, and the Cove is where she wants to raise her daughter. When her mother's illness brings her and the big city doctor closer together, panic sets in. Her marriage taught her men don't stay.
Can she put aside the heartaches of the past and trust Alex enough to accept the love he's offering? Or will her fear of abandonment mean she'll send him away forever?
Excerpt:
They drank their tea in silence, but the silence didn't feel awkward. Julia felt soothed, the stress slowly leaving her body. Perhaps her grandmother had been onto something. The tea seemed to be working.
She finished the last of it and set down the cup. "I should be going. I left Ava with Tracy, and she's probably hungry by now."
Julia got to her feet and headed to the front door, with Alex following her. "Thanks for the tea, and for listening. I guess I needed both today."
"Anytime. Seriously, Julia, anytime you need to talk, about anything, give me a call."
She wondered if he was speaking as a doctor, as a friend, or as a man. Which one did she want him to be?
"Thank you."
"I'll try to keep an eye out for your folks, see if there's anything I can do for them."
She was touched by his offer. "I really appreciate that, but I know how busy you are."
He waved away her concern. "It's no big deal. I appreciate my grandmother's neighbors checking in on her, and I'd be happy to do the same."
He really did understand how she felt. "In that case, thank you."
She opened the front door and stepped outside. Turning to Alex, she smiled. His thick hair had begun to dry, and the dark strands gleamed in the spring sunshine. Her breath caught in her throat at his beauty.
"Bye, Alex."
"Bye. Take care."
Julia hurried down the steps and across the lawn to her car. An appreciation for his looks was as far she could take any relationship with him. Her life was too complicated, too full already. And she would never get involved with a man who planned to leave Lobster Cove in only a few more months.
Find Jana Here:
Website: http://www.janarichards.com
Blog: http://janarichards.blogspot.com
Facebook: http://www.facebook.com/JanaRichardsAuthor
Twitter: http://www.twitter.com/JanaRichards
Amazon Author Page: http://www.amazon.com/author/janarichards
Newsletter Signup: http://www.eepurl.com/m3UnT
Goodreads:  https://www.goodreads.com/author/show/2892274Jana_Richards
Google+ Profile:  https://plus.google.com/100820406211390323245
Buy Links:
Amazon  
The Wild Rose Press