Today fellow Ohio girl and NEORWA chapter-mate, Christy McKee, sits on the hot seat. Christy's latest book, The Truth About Lilly, was released on Valentine's Day. Welcome, Christy!
Tell us a bit about you. Where do you live, and how long have you been writing?
Thank you so much for having me today.  For starters, I am a Buckeye, born and raised in Ohio. When I married, my husband's career took us to Georgia, South Carolina, Kentucky and Louisiana, but my heart never left the Midwest. Finally, we have come home to stay and live in a picturesque little Ohio town with a lovely square and Victorian gazebo.  I worked in TV and advertising for many years, always doing some kind of writing but never fiction.  I heard about a Romantic Times convention and talked myself into going. A year later, my first book was completed.  The line I submitted to was done away with and my book collected dust for the next several years.
What inspired you to write The Truth About Lilly?
My early childhood was spent at a resort area, Indian Lake, in Ohio. My dad owned a marina and boat sales/repair operation. Growing up in a place where people vacation and are there to have a good time was fun. We always had a supply of new friends and many who came back year after year. I thought it would be interesting to build a series around a similar resort town, my fictional Haley, Vermont.
Sounds like a wonderful place to grow up! What does your writing process look like? 
My writing process is sort of a hybrid. I am not a pure panster but I stop at story boards. When a story idea comes to me it appears in Technicolor in video format.  I have the beginning and end but no middle. The real work comes in deciding on the plot points, creating the middle.  After I've decided how the characters need to grow, I am set to begin writing. I maintain if I plotted the book out in its entirety, all the fun of discovery would be gone. And… I'm all about having fun on the job.
What do you do when you're not writing?
When I am not writing, I read, go to movies, go to Green Bay Packers games, watch Netflix series, PBS, research house plans for the perfect house I want to build someday and visit my children.
What are you working on now?
At the moment I am writing book two in The Shores of Lake Champlain series. It's about a thriller writer who has withdrawn from life after losing his wife and child and the personal chef who is determined to force him to start living again.
What book are you reading now?
I love the Emily March series Eternity Springs and am reading book nine, Tear Drop Lane.
I tend to work through story ideas when I'm driving or in the shower, both of which are, of course, places I can't write anything down. Do you have any strange writing habits?
Here I thought I was the only one who wrote in the shower. For some reason, after lathering and rinsing, I crank up the water temperature and go into a "mellow thought" zone.  Plot problems I've fiddled around with suddenly have a solution. I am not being kind to the environment, I know—all that hot water– but for some reason it works. I keep expecting my mother to show up—in ghost form– and knock on the bathroom door telling me I am using up all the hot water.  As for driving and writing, don't get me started. I've gone to the grocery for milk and ended up God knows where—truly I didn't know where– while ruminating over a new scene for my book. The things we go through for our art.
Oh my. I don't tend to get lost, but I have sometimes been surprised to arrive at my destination without being completely aware of getting there.  That's probably a bad thing to admit, isn't it?
The Truth About Lilly, by Christy McKee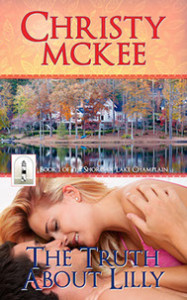 Disgraced…
Lilly Talbot never imagined she would be starting her life over again.  Losing her good name for something she didn't do has driven her to move into an old lake house she inherited in Vermont. Upon arrival, she is stunned to see half the roof is about to slide into Lake Champlain. Even more upsetting, the man who can fix it will only agree if she trades him room and board for his labor. What will the good people of Haley think of her sharing a house with the handsome bachelor?
A man with a past…
Connor "Mac" McQueen, once one of the infamous Whiz Kids of Wall Street, spent three years in prison for insider trading. Only one thing sustained him during his time inside, the thought of owning Point Cottage, a home he'd fallen in love with years ago. His plans to turn the house into a stunning showcase for his eco-friendly home construction business might be scrapped.
Secrets and lies…
Now someone's trying to drive Lilly from her home. Is it someone from her past?  Mac has secrets of his own– that could ruin lives if revealed. But if Lilly and Mac are to have a future together they must first delve into the past for answers and accept some difficult truths about each other. Only then, will they know if true love is in their hearts.
Excerpt: 
   "Last week I had a blue Mercedes soft top." She didn't elaborate that it was a leased car, and she could neither afford to buy or lease another one. "If vandals had done this to that car, your sheriff would have found the culprits strung up by their toes in some of those big ole' trees in the front yard."
   "Blood thirsty little thing, aren't you?" He offered up a rusty chuckle, relieved at her lift in spirits.
   "You know us Southerners. We still have our backs up over the War of Northern Aggression."
Find Christy and her books at:
Website:    www.christymckee.com
Email:         [email protected]
Twitter:      https://twitter.com/ChristyMcKee
Facebook: https://www.facebook.com/christymckee.author?ref=hl