Today I am honored to welcome NEORWA chapter sister, 2013 Golden Heart winner, and two-time 2015 RITA Finalist AE Jones. Thanks so much for visiting, AE!
Tell us a bit about you. Where do you live, and how long have you been writing?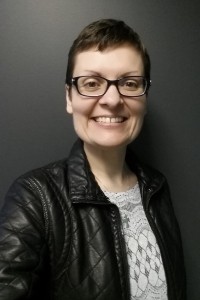 Thanks for having me here today, Marin! I live in Northeast Ohio in a small town. I have been reading since I was able to hold a book in my hands and I have been writing since my twenties. I got serious about writing paranormal romances and urban fantasies about six years ago.
What inspired you to write your Mind Sweeper series?
Believe it or not, my Mind Sweeper series stemmed from a joke. I wanted to write about a woman who worked with supernatural and I flippantly thought to myself one day "An angel, a demon, and a vampire walked into a bar…ha, ha, ha." But what if it wasn't a joke? What if it really happened? How would someone deal with the aftermath? That is the first line of Mind Sweeper and that's how my series came to be.
The humor and sarcasm interwoven in the stories are because I love, love, love the whole Buffy the Vampire Slayer and Angel universe that Joss Whedon created. To me humor makes the sad and scary parts of the story that much more. It's a great foil.
That is the best first line. I love the Buffy universe too–I've been binge watching Buffy and Angel on Netflix, since I never watched it when it originally aired. 
What does your writing process look like?
I am a total pantser. Which can be difficult because I write mysteries in my stories and so there are plot threads that need to be tied up. I do normally have a general idea of the ending, but then as I write the story I'll have these 'OMG' moments where something will come to me and it goes into the story. I also write my chapters out of order too. When a scene comes to me I have to write it down even if it's at the back of the book.
What do you do when you're not writing?
Sleep. Okay, that's a slight exaggeration. I have a day job and then I have my writing job in the evenings. When I'm in relaxation mode I'll usually read or go out to dinner with friends. And a special treat for me is taking a nap (and now I've gone full circle back to the beginning of this answer).
What are you working on now?
I am currently in edits for Sentinel Lost, the fifth book in my Mind Sweeper series. That novel should be coming out in September and I am also working on the first book of a new series that should come out late fall.
Great! I know I am looking forward to new books from you. 🙂
I tend to work through story ideas when I'm driving or in the shower, both of which are, of course, places I can't write anything down. Do you have any strange writing habits?
I do a lot of 'book thinking' in the shower too! I've had to put a notebook by my bed since I have a tendency to come up with things as I drift to sleep or am just waking up in the morning. I think it's because my subconscious is free to roam! I also walk two miles every day and I think through my plot and ideas when I'm walking too. Although I sometimes have to stop and type an idea in my phone so I don't lose it!
Share a photo of your writing space.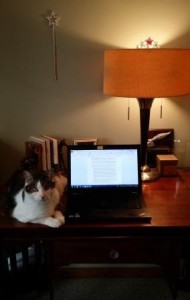 Here is a picture of my office and yes, more often than not Dillon, my cat, is perched right next to my laptop. I have to stop and pet him periodically or he moves in front of the keyboard. And that is a magic wand hanging on the wall and a tiara sitting on my lamp. The magic wand is because I need all the help I can get and the tiara I wear on release days for my books. I call release days my 'kick butt princess' days. I usually will post a tiara picture on my blog as part of the celebration too!
LOL. Dillon looks very serious.
How do you come up with character names?
This is a hard one for me. Character names can be tricky. Oftentimes I'll name a character and then as he or she develops I realize that the name I chose for them is not right. And since my series has somewhat of a supernatural UN vibe, I have to look for Russian names and French names and Irish names, etc. I spend a lot of time on the internet on baby name sites!
In one of my books I changed the hero's name three times and the heroine's name twice. Thank goodness for the find and replace feature!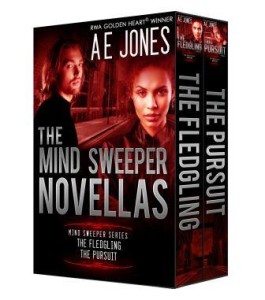 The Mind Sweeper Novellas (Box Set)
Discover the Mind Sweeper series through the eyes of Jean Luc and Talia in these two novellas.
The Fledgling – A Novella
Vampire Jean Luc Delacroix has been alive for nearly four hundred years. Alive, but not really living. This changes when he meets newly turned vampire, Talia. Feisty and beautiful, Talia is the first female Jean Luc has been attracted to in centuries. But when he finds out she is also a bounty hunter who is interfering with his investigation of a supernatural serial killer, he pushes her away for her and his own good.
Bitten and thrust into the supernatural world against her will, Talia wants nothing more than to do her job. She doesn't have time to deal with an overbearing, ridiculously sexy vampire. But Jean Luc and Talia butt heads on their single-minded crusade to stop a murderer. And unless they can set aside their troubled pasts and learn to trust each other, they may never have an opportunity to explore their true feelings. Especially when they face off with the killer.
The Pursuit – A Novella
Thirty years after their initial meeting, Jean Luc Delacroix and Talia Walker once again cross paths. After seeing Talia again, Jean Luc's feelings reignite. This time he will do whatever it takes to make her a permanent part of his life. Talia learned everything she knows about love—and about being a vampire—from Jean Luc. And when she comes face to face with Jean Luc again, she wonders if her continued independence is as important as being with the vampire she still loves.
Before either can acknowledge their feelings, they are embroiled in a deadly case of a vampire draining humans. In the midst of an investigation that threatens the very foundation of the vampire nation, can Jean Luc and Talia finally find the courage to follow their hearts? Or will the killer destroy them first?
EXCERPT: Jean Luc is teaching Talia how to be a vampire. In this excerpt, they are just starting to explore but yet fight their attraction to each other. I like it because it is an interesting interplay of tension with a splash of humor.
It had been seven days since the killer last struck. Seven days of little to no headway. Seven days of spending every moment with Talia and her lavender essence, rich skin, and chocolate eyes. Jean Luc stared at her until she turned toward him, her eyes widening under his heated scrutiny.
After a moment, her mouth quirked and she took a step closer to him. "Can I help you with something?"
"Yes. Tell me how you would fight someone much larger than yourself."
"I would avoid it."
"And if you cannot?" he pushed.
"Carry a big gun?"
Buy the Mind Sweeper novella box set here: 
Amazon
iTunes
Kobo
You can find out more about AE Jones here:
Website: aejonesauthor.com
Twitter: @aejonesauthor
Facebook: www.facebook.com/aejones.author1