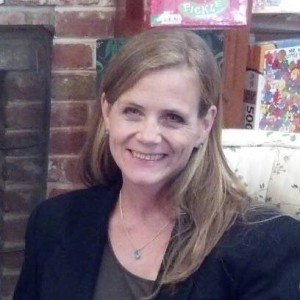 Welcome to a special Wednesday edition of the blog, as I am joined by fellow Wild Rose Press author Katie O'Sullivan to the blog. Katie has one recent release and another coming out November 11. Welcome, Katie! 
Hi, Marin, and thanks for inviting me to visit!
Tell us a bit about you. Where do you live, and how long have you been writing?
I live on the shores of Cape Cod with my teens, husband and two big, demanding dogs who think they still fit in my lap. (Can a Saint Bernard really fit in anyone's lap? I don't think so.) I've wanted to be a "real author" since third grade when my aunt "published" my first novel, The Mystery of the Haunted House, in a limited run of 50 copies at the printer where she worked. I was hooked and earned my BA in English, determined to find a job in publishing, but ended up in advertising, public relations, and then journalism for years. When my youngest went to full-day kindergarten, a friend dragged me to his novel writing class and I finally started writing fiction.
I love Cape Cod. It's so pretty up there! What inspires you to write your books?
Living so close to the Atlantic Ocean inspires almost everything I write, from my YA series about the mermaids who summer in Nantucket Sound, to the Cape Cod romances like Crazy About You that I've published with The Wild Rose Press. My newest book, Ghosts Don't Lie (coming November 11!), is the only one so far that doesn't take place on the Cape, but in the small New Jersey town where I grew up.
What does your writing process look like?
I'm a pantser, but I admit I do best when I have a rough outline to start from. For the novella I wrote for an upcoming Valentine series, I actually plotted out the whole thing and finished the first draft in two weeks. Which tells me I should do that more often!
What do you do when you're not writing?
I used to be the typical soccer mom, but my soccer player is off in college, and my middle child drives so we finally ditched the mini-van. My high school students are more into the drama department than sports, so I see a lot of plays (both with them and with them on stage), walk on the beach with the dogs, bake with my daughter… and then there's the day job as a technical writer. I keep busy.
What are you working on now?
I'm just finishing the first round of edits for my next YA mermaid book (Defiance, scheduled for a December release from Wicked Whale Publishing) and am ready to start on another Cape Cod romance. I've got the main characters figured out and am trying this new "outline" method that worked so well with the novella. I'm also kicking around ideas for a sequel to Ghosts Don't Lie.
Sounds great! Neat freak or not so much?
Oh, I wish! I tend to forget about cleaning until it NEEDS to be done. When the kids were small (like, crawling size) I scrubbed floors and wiped things down more religiously, but living with a Saint Bernard has totally lowered my standards of what's "clean."
LOL. I know what you mean! What's first on your bucket list?
I really want to visit the Fiji islands and stay in one of those guest huts that's built over the water on stilts, where you have to walk out on a rickety boardwalk to reach the hut and there's a patch of glass built into the floor to watch the sea life swim by and a porch to sit on aimed straight at the sunset. Maybe I'll let my husband tag along for the trip. No phones, no work. Doesn't that sound awesome? And totally do-able….except for the airfare. And the total cost, with college expenses looming. And finding the time to get away. Other than that, I'm there.
That does sound awesome! Tell us a little about your latest releases.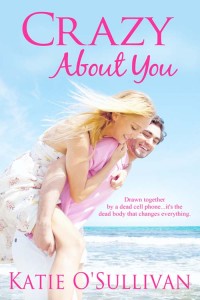 Crazy About You:
Climate scientist Chase Anderson races from one project to the next, unwilling to slow down in his quest to save the world's oceans. He has no time for family or relationships until he crashes into an impetuous blonde with a quirky sense of humor. One sizzling kiss makes him seriously reevaluate his priorities. And his sanity.
Emma Maguire left her small Cape Cod hometown years ago, seeking the fast pace and anonymity of New York City. She's not sure what she's searching for, but when a family crisis brings her home to Provincetown she's caught in a crazy tangle of half-truths and mistaken identity… and falls for the handsome stranger who broke her cell phone.
Will untangling the web of lies drive them crazy, or lead to something even crazier – like love?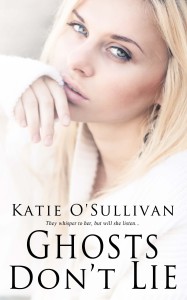 Ghosts Don't Lie (coming November 11):
Jillian Rogers Greene worked hard to close the doors on the psychic abilities that defined her youth. For years she pretended to be normal, ignoring the ghosts who whisper to her. When a car crash sets her on a collision course with the past, ugly secrets about her family and marriage come to light. She's forced to reevaluate what she thought she knew…and exactly what the future holds.
Connor Sanderson might be the key to unlocking that future. The grey-eyed artist knows ghosts aren't real, but his attraction to the beautiful psychic makes him question those beliefs. With her husband plotting to kill her, can Jillian make Connor see the truth before it's too late?
Here's an excerpt:
In the corner of the mirror, she saw a glitter of light. She realized Jasper was sitting on the bed, watching. "What?" she asked him, not turning around.
"Is it fun being a grown-up?" The spirit swung his legs back and forth.
Jillian fished a hair elastic from the jar on the dresser. "Fun isn't really the word for it."
His legs stopped swinging. "So being a grown-up stinks?"
"It doesn't stink either, Jasper. It's complicated. As you get older there are more choices to make and a lot more to worry about." She was still looking at his reflection in the mirror, not turning to face him. "Some parts are really great, but there are lots of times when you wonder if you've made the right decision."
"I'm glad I don't have to find out. It sounds hard."
Jillian took a deep breath. "What happened to you?"
"Me?" Jasper laughed. "That's easy, I died."
Love it! You can find information about Katie and links to her books at:
Website ~ Blog ~ Facebook ~ Twitter ~ Goodreads ~ Amazon Author Page
And join me today on Katie's blog , where she has a great giveaway going on!