Hello all! Today's guest is one of my pals from Passionate Critters, Lori Sizemore. Lori's debut novel, Infamous, releases from The Wild Rose Press on December 14. Happy almost book birthday, Lori!
Hop over to Lori's blog today to learn about some of her favorite things at Christmas time, including Christmas music, handmade gifts (including cat-butt coasters), and giving to charity.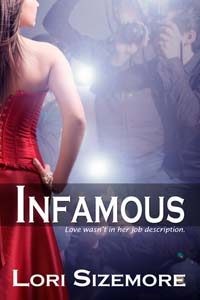 Here's a bit more about Lori's new book and Lori herself:
Justine Montgomery, daughter of a divorced beauty queen and TV magnate, is a tabloid disaster after her infamous sex tape. She's so desperate to help save her family's home she turns to her deal-making dad. Can she prove to him she's cut out for a career in television or will she lose it all?
Sawyer has his own past and a successful career is his only goal. Seeing Justine fail would mean the promotion of a lifetime, but things get complicated when he develops feelings for her. Suddenly, the lines between work, life, sex, and love are blurry.
They will have to overcome the bitterness of a rejected ex, the controlling actions of her father, and the half-truths they're telling one another to forge a lasting partnership both on the job and off the clock.
You can find Infamous at these retailers: Amazon | Barnes & Noble | iBooks | Kobo | All Romance | BookStrand | Goodreads
Lori Sizemore grew up in the mountains of West Virginia and never quite managed to escape them. Lori lives at home with her husband of twenty-plus years and two of her three daughters. She also lives with two dogs, a cat, and five hermit crabs. Yes, five of them. This menagerie and her family keep her busy.
She worked in mental health as a social worker for ten years before making the choice to write full-time.
You can find Lori online here: Website | FB Author Page | Twitter | Amazon |
Goodreads | Pinterest | Instagram