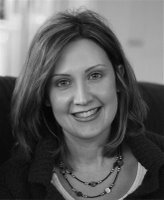 Happy 9th Day of the Winter Blog Hop, everyone! Today's guest is my friend Jennifer Shirk.  Jennifer has a Bachelor's degree in pharmacy-which has in NO WAY at all helped her with her writing career. But she likes to point it out, since it shows romantic-at-hearts come in all shapes, sizes, and mind-numbing educations.
She writes sweet (and sometimes even funny) romances for Avalon Books/Montlake Romance and now Entangled Publishing. Her novel Sunny Days for Sam won the 2013 Golden Quill Published Authors Contest for Best Traditional Romance and recently, her novel Wedding Date for Hire was a 2016 Golden Leaf finalist for best short contemporary romance.
Lately she's been on a serious exercise kick. But don't hold that against her. You can read more about her and her books, and subscribe to her newsletter on her website. Jennifer's latest release from Entangled Publishing is Wrong Brother, Right Match, a sweet, contemporary romance.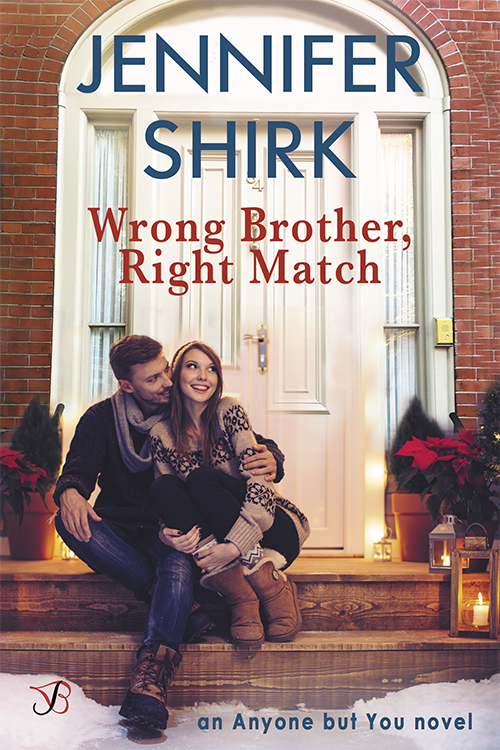 Matchmaking guru Kennedy Pepperdine's life is perfect. Perfect job. Perfect friends. Perfect boyfriend. Except…when she gets trapped in an elevator with a handsome stranger, she accidentally confesses a secret: maybe her perfect boyfriend, Justin, isn't so perfect for her after all. But a matchmaker should be able to successfully match herself, right? Thankfully, she'll never see the handsome stranger again. Until she heads home with Justin for the holidays and learns that the sexy stranger is none other than Justin's older brother, Matt.
Matt Ellis is trying to be on his best behavior for his mother—it is Christmas, after all. But when he recognizes the beautiful woman from the elevator—the one he hasn't been able to stop thinking about for months—his best behavior is being held by a thread. Matt's always sacrificed for his family, and nothing is more important than their happiness, but the more time he spends around Kennedy, the more he wonders if her supposed "right match" might just be the wrong brother.
You can find an excerpt here, as well as buy links.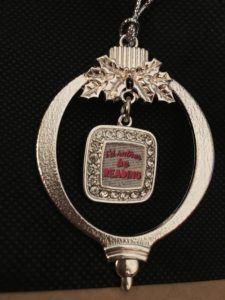 And now, hop over to her blog where she's discussing fruitcakes–the edible kind. (I confess to not realizing any of them were edible. 🙂 I am, it's safe to say, not a fan of fruitcake–sorry, Jen!)
She's also giving away this fun ornament to a random commenter, a perfect gift for your favorite book lover!