So lately I have been watching the early seasons of The Great British Bake-Off.  Of the five seasons aired so far, only the last three made it to network TV in the US, but the first two are available on YouTube, and they are so worth the watch. Each episode contains historical snippets about particular foods. Several of the classic items featured on the show have Victorian roots, and it gave me an idea.
I am a reasonably competent cook, but my baking efforts have been hit or miss at best. Baking is far less forgiving of the "oh, just throw in some extra [insert food item here–usually garlic]" method I typically employ in my cooking. Nevertheless, the show has inspired me to learn to be a better baker, and since Victorian food plays a part in every one of my books, I thought I might share that journey with you. So once a month (give or take), I'll feature a Victorian era recipe and my efforts to recreate it. My husband thinks I'm a lunatic for even trying this (probably because he's been forced to sample a hockey puck biscuit or two), but what the hell.
So I am off to gather recipes from various sources–primarily websites and Victorian era cookbooks–and to wait for the summer heat to die down so I can fire up the oven.
In the meantime, I will leave you with this picture of the glorious Victoria Sandwich I made for the launch party for my first book.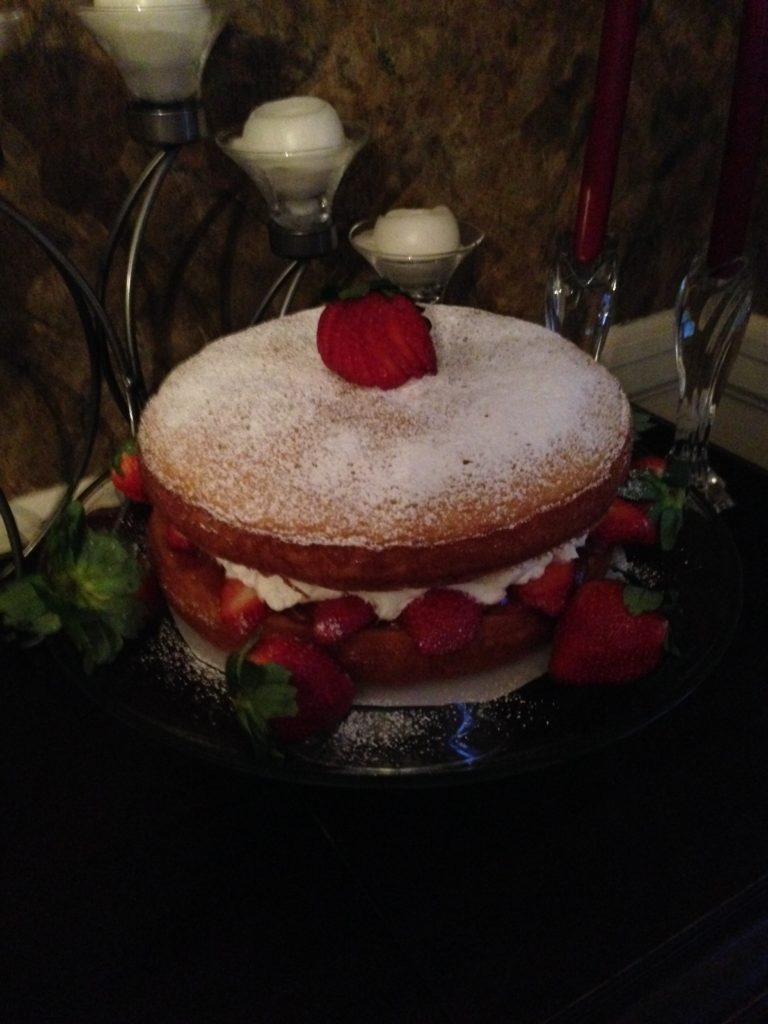 The recipe appeared in Mrs. Beeton's Book of Household Management in 1861, and was reportedly named after Queen Victoria because it was one of her favorite cakes.
VICTORIA SANDWICHES.
INGREDIENTS.– 4 eggs; their weight in pounded sugar, butter, and flour; ¼ saltspoonful of salt, a layer of any kind of jam or marmalade.
Mode.– Beat the butter to a cream; dredge in the flour and pounded sugar; stir these ingredients well together, and add the eggs, which should be previously thoroughly whisked. When the mixture has been well beaten for about 10 minutes, butter a Yorkshire-pudding tin, pour in the batter, and bake it in a moderate oven for 20 minutes. Let it cool, spread one half of the cake with a layer of nice preserve, place over it the other half of the cake, press the pieces slightly together, and then cut it into long finger-pieces; pile them in crossbars on a glass dish, and serve.
Time.– 20 minutes.
Average cost, 1s. 3d.
Sufficient for 5 or 6 persons.
Seasonable at any time.
You can find a more modern recipe, which is the one I used, here.
I'll delve more into other recipes, as well as terms that make an American baker scratch her head (what is a moderate oven anyway?) in later posts. If you have a recipe you'd like to share in a guest post, or you have a burning curiosity about a particular topic, email me at [email protected].
Sources:
http://www.telegraph.co.uk/foodanddrink/8753182/The-great-Victoria-sandwich.html
http://www.lavenderandlovage.com/2011/08/queen-victoria-womans-institute-famous.html
http://teainengland.com/2012/12/the-victoria-sponge-its-history-and-a-recipe/
http://www.picturebritain.com/2012/05/cake-fit-for-queen-victoria-sponge.html